Trigger warning

This article describes a mass shooting event with many victims. There are no graphic images; however, it contains the names of the deceased and photographs from when they lived.
The Pulse shooting was a mass shooting at Pulse Orlando, a popular gay nightclub in Orlando, Florida, United States on June 12, 2016. The perpetrator of the massacre, Omar Mateen, whose name will otherwise not be used in this article out of respect for the community, was a 29-year-old man who entered the club around 2:00 a.m. EDT and opened fire. After the resulting in a three-hour standoff with law enforcement, officers eventually shot and killed him.[1][2]
With 68 injured survivors[3] and 49 victims killed, along with the shooter's death, this attack is the deadliest incident in the history of violence against LGBTQIA+ people in the United States. It is the deadliest terrorist attack in the U.S. since September 11, 2001, and was the deadliest mass shooting by a single gunman in U.S. history until the 2017 Las Vegas shooting. The victims, predominately Latinx as Pulse had been hosting a "Latin Night", ranged in age from 18 to 50 years old.[4]
Shooting
Pulse Orlando was a popular gay nightclub that housed 500 to 600 patrons on a regular evening and up to 800 during Saturday nights. The cozy club had two main rooms: a smaller one on the left after entry, which was used as a performance space by dancers and drag queens, and a larger dance space to the right that connected to an outdoor patio behind the club.[5]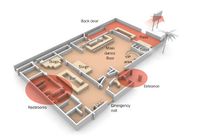 On Saturday June 12, 2016, during Latin Night, the gunman entered Pulse near closing time at 2:00 EDT during the last call for drinks. Armed with a SIG Sauer MCX semi-automatic rifle and a 9mm Glock 17 semi-automatic pistol,[2] he opened fire at the approximately 320 people still inside.[5] Adam Gruler, a uniformed off-duty Orlando Police Department officer working extra duty as a security guard, called for reinforcements and shot back at the gunman.[1] When police reinforcements arrived at 2:04 a.m., the shooter retreated further into the nightclub and barricaded himself with hostages in one of the bathrooms;[6] he had fired on and injured several of the people hiding there. However, shortly after entering the women's bathroom, his rifle jammed, and he switched to his pistol. Two survivors later attested that the shooter had said, "I don't have a problem with black people", and that he "wouldn't stop his assault until America stopped bombing his country".[7]
Although six officers had tracked the sound of gunfire to the bathroom area, the fact that the gunman had stopped being an active shooter and had become a barricaded gunman with hostages instead had prevented the officers from storming the bathroom.[6] Instead, they had held position until SWAT arrived to take over the operation.[8]
At 2:22 a.m., the shooter himself contacted 9-1-1. During the call, he expressed sympathy for the Boston Marathon bombers and cited Moner Mohammad Abu Salha, an American citizen who died in a suicide bombing in Syria in 2014, as an inspiration before swearing allegiance to ISIL leader al-Baghdadi. Abu Salha and the Pulse shooter would later turn out to be acquaintances of each other, having attended the same mosque.[1][8]
With the gunman in the bathroom, officers focused on rescuing and evacuating all those trapped inside. By 2:35 a.m., the police had completed an extraction of some living patrons, with the exception of those held hostage by the shooter and those hiding inside dressing rooms.[2]
At 2:45 a.m., the gunman called News 13 of Orlando and identified himself as the shooter operating on behalf of ISIL whose actions were triggered by a U.S.-led bombing strike in Iraq that killed Abu Wahib, an ISIL military commander, on May 6 earlier that year. The police tried to negotiate with him multiple times, but by 4:29 a.m. decided to break off further attempts after he threatened to strap explosive vests to four hostages, strategically place them in different corners of the building, and detonate them 15 minutes later.[8]
Just before the police and SWAT breached the bathroom wall, the gunman opened fire again at the hostages inside the women's bathroom, killing at least two more, one of whom was a man who sacrificed his life to save the woman behind him. After the police breached the bathroom wall and drew the perpetrator out into a hallway, they engaged with each other again. By 5:17 a.m., the shooter was reported to have been gunned down.[8][9]
Victims
49 people lost their lives during the shooting on June 12, 2016;[10] additionally, 68 people were seriously injured.[3]
Deaths
Stanley Almodovar III, 23
Amanda Alvear, 25
Oscar A. Aracena-Montero, 26
Rodolfo Ayala-Ayala, 33
Alejandro Barrios Martinez, 21
Martin Benitez Torres, 33
Antonio D. Brown, 30
Darryl R. Burt II, 29
Jonathan A. Camuy Vega, 24
Angel L. Candelario-Padro, 28
Simon A. Carrillo Fernandez, 31
Juan Chevez-Martinez, 25
Luis D. Conde, 39
Cory J. Connell, 21
Tevin E. Crosby, 25
Franky J. Dejesus Velazquez, 50
Deonka D. Drayton, 32
Mercedez M. Flores, 26
Peter O. Gonzalez-Cruz, 22
Juan R. Guerrero, 22

Paul T. Henry, 41
Frank Hernandez, 27
Miguel A. Honorato, 30
Javier Jorge-Reyes, 40
Jason B. Josaphat, 19
Eddie J. Justice, 30
Anthony L. Laureano Disla, 25
Christopher "Drew" A. Leinonen, 32
Brenda L. Marquez McCool, 49
Jean C. Mendez Perez, 35
Akyra Monet Murray, 18
Kimberly Morris, 37
Jean C. Nieves Rodriguez, 27
Luis O. Ocasio-Capo, 20
Geraldo A. Ortiz-Jimenez, 25
Eric Ivan Ortiz-Rivera, 36

Joel Rayon Paniagua, 32
Enrique L. Rios Jr., 25
Juan P. Rivera Velazquez, 37
Yilmary Rodriguez Solivan, 24
Christopher J. Sanfeliz, 24
Xavier Emmanuel Serrano Rosado, 35
Gilberto Ramon Silva Menendez, 25
Edward Sotomayor Jr., 34
Shane E. Tomlinson, 33
Leroy Valentin Fernandez, 25
Luis S. Vielma, 22
Luis Daniel Wilson-Leon, 37
Jerald A. Wright, 31
Perpetrator
The gunman was an American born in New Hyde Park, New York to Afghan parents and was raised a Muslim. At the time of the shooting, the 29-year-old had been living in an apartment complex in Fort Pierce, Florida, 117 miles (188 kilometers) from the Pulse nightclub in Orlando.[11]
Motive
An initial profile of a man struggling with his sexuality surfaced when several witness statements alleged that the gunman had frequented Pulse before as a visitor and had tried to pick up men, both in person and via gay dating apps, as well as claims that he had relations with men before. The attack on the nightclub has long been seen as a hate crime directed at the LGBTQ community, the Latinx community, or both; however, the FBI could not find evidence to corroborate those theories. All forensic evidence suggested that the gunman had settled upon Pulse because other clubs in the neighborhood had been more heavily guarded.[11]
In the hours before the attack, the gunman had vowed vengeance for American airstrikes in Iraq and Syria on Facebook, a sentiment he repeated during his 9-1-1 call with the FBI. The reason behind his vicious attack was subsequently attributed to motives of vengeance.[12][13]
Aftermath
Pulse Memorial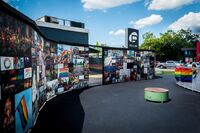 The City of Orlando erected a temporary barrier fence to prevent trespassing at the crime scene. It organically became a temporary memorial with small shrines of candles, photographs, flowers, and other items. The city added a commemorative screen-wrap with local artwork as tributes to victims and survivors of the shooting.[14] Permanent markers were provided to leave messages on the wall. The City of Orlando initially intended to buy the nightclub from owner Barbara Poma and turn it into a memorial operated by the local government. After initially coming to an agreement in November 2016, Poma decided in December 2016 that she would no longer sell the property.[15] In 2004, she had co-founded the nightclub in honor of her late brother, John, a gay man who had battled HIV[16] and died in 1991 due to AIDS complications. Instead, Poma established onePULSE Foundation to oversee the process.[17]
The temporary memorial has since been dismantled and the surviving objects have been preserved by Orange County Regional History Center in the The One Orlando Collection.[18] An interim memorial has been established until a planned, permanent memorial can be constructed.[19] Five years after the massacre, kicking off a final weekend of Pride Month, President Joe Biden signed H.R. 49 into law on June 25, 2021. The bill formally establishes the Pulse nightclub as a national memorial, paving the way for the planned memorial and museum led by the onePULSE Foundation commemorating the 49 people who lost their lives that night.[4]
Other memorials and tributes
Christopher "Drew" A. Leinonen was an alumnus of the University of Central Florida (UCF) in Orlando. His boyfriend, Juan Ramon Guerrero, was enrolled at UCF when he was killed. The 49 victims have been remembered in annual vigils on the campus.[20] In June 2017, the first anniversary of their deaths, a mural by Michael Pilato and Yuriy Karabash was installed at the school's Student Union. The mural features Guerrero and Leinonen and was created in collaboration with their families.[21] Friends of Leinonen created The Dru Project, named after his online pseudonym,[22] to honor him and continue his legacy of empowering LGBTQ youth.[23]
National impacts
The Pulse shooting prompted several businesses in the United States, from shopping malls to concert halls, to reexamine their security protocols,[24] and police forces announced plans to increase security on LGBTQIA+ landmarks, such as the Stonewall Inn and during Pride events.[25]
Resources
References
↑ 1.0 1.1 1.2 Fieldstadt, Elish; Grimson, Matthew; and Wyllie, David: "Orlando Nightclub Shooting: Mass Casualties After Gunman Opens Fire in Gay Club" (2016-06-12). https://www.nbcnews.com. NBC News. (Archived on January 19, 2022).
↑ 2.0 2.1 2.2 Berman, Mark; Markon, Jerry; and Tsukayama, Hayley: "Gunman who killed 49 in Orlando nightclub had pledged allegiance to ISIS" (2016-06-13). https://www.washingtonpost.com. Washington Post. (Archived on December 28, 2021).
↑ 3.0 3.1 onePULSE Foundation: "FAQs". onepulsefoundation.org. (Archived on January 19, 2022).
↑ 4.0 4.1 Hickman, Matt: "Biden signs bill designating Pulse nightclub in Orlando a national memorial" (2021-06-28). https://www.archpaper.com. The Architect's Newspaper. (Archived on January 19, 2022).
↑ 5.0 5.1 Rothaus, Steve: "Pulse Orlando shooting scene a popular LGBT club where employees, patrons 'like family'" (2016-06-12). https://www.miamiherald.com. Miami Herald. (Archived on January 19, 2022).
↑ 6.0 6.1 Caplan, David and Hayden, Michael Edison: "At Least 50 Dead in Orlando Gay Club Shooting, Suspect Pledged Allegiance to ISIS, Officials Say" (2016-06-13). https://abcnews.go.com. ABC News. (Archived on January 19, 2022).
↑ Hennessy-Fiske, Molly: "Survivor on Orlando gunman: 'He was not going to stop killing people until he was killed'" (2016-06-14). https://www.latimes.com. Los Angeles Times. (Archived on January 19, 2022).
↑ 8.0 8.1 8.2 8.3 Berman, Mark and Goldman, Adam: "'They took too damn long': Inside the police response to the Orlando shooting" (2016-08-01). https://www.washingtonpost.com. (Archived on January 19, 2022).
↑ Cochrane, Emily; Ovalle, David; and Weaver, Jay: "Orlando nightclub shooting leaves 49 dead; terrorism links probed" (2016-06-12). https://www.miamiherald.com. Miami Herald. (Archived on January 19, 2022).
↑ "Victims' Lives Remembered: Students, Partners, Trusted Friends". https://www.nytimes.com. New York Times. (Archived on January 19, 2022).
↑ 11.0 11.1 Fitzsimons, Tim: "What really happened that night at Pulse" (2018-06-13). https://www.nbcnews.com. NBC News. (Archived on January 19, 2022).
↑ Blinder, Alan; Pérez-Peña, Richard; and Robles, Frances: "Omar Mateen Posted to Facebook Amid Orlando Attack, Lawmaker Says" (2016-06-16). https://www.nytimes.com. New York Times. (Archived on January 19, 2022).
↑ Zimmerman, Malia: "Orlando terrorist's chilling Facebook posts from inside club revealed" (2016-06-15). https://www.foxnews.com. Fox News. (Archived on January 19, 2022).
↑ City of Orlando: "Installation of New Commemorative Fence Screen Surrounding Pulse". City of Orlando. (Archived on January 19, 2022).
↑ Farber, Madeline: "The Owner of the Pulse Nightclub No Longer Wants to Sell It" (2016-12-05). Time. (Archived on January 19, 2022).
↑ "About Barbara Poma". pulseorlandoclub.com. (Archived on June 12, 2016). (content no longer online)
↑ Weiner, Jeff and Lotan, Gal Tziperman: "Pulse nightclub owner says she won't sell to city" (2016-12-05). orlandosentinel.com. (Archived on January 19, 2022).
↑ "The One Orlando Collection". oneorlandocollection.com. (Archived on January 19, 2022).
↑ onePULSE Foundation: "The Pulse Interim Memorial". onepulsefoundation.org. (Archived on January 19, 2022).
↑ Lee, Jenna Marina: "UCF Remembers Pulse 5 Years Later" (2021-06-11). ucf.edu. (Archived on December 7, 2021).
↑ Gilmartin, Courtney: "UCF Installs Mural in Honor of Knights Killed at Pulse" (2017-06-07). ucf.edu. (Archived on April 17, 2021).
↑ "Team — The Dru Project". thedruproject.org. (Archived on January 19, 2022).
↑ "About — The Dru Project". thedruproject.org. (Archived on January 19, 2022).
↑ Halzack, Sarah; Hui, Mary; and O'Connell, Jonathan: "In wake of Orlando attack, venues across country revisit security" (2016-06-13). https://www.washingtonpost.com. The Washington Post. (Archived on January 19, 2022).
↑ Domonoske, Camila: "LGBT Community Mourns Orlando Attack, Boosts Security at Pride Events" (2016-06-12). https://www.npr.org. NPR. (Archived on January 19, 2022).