LGBTQIA+ pride is the promotion of self-affirmation, acceptance, equality, and visibility. It commemorates the Stonewall riots and involves a series of events, parades, and marches. Pride is celebrated internationally on varying dates and months.[1] The celebratory day in the United States was initially the final Sunday in June as "Gay Pride Day", but grew to encompass a month-long ordeal in several other countries. In modern times, celebrations include workshops, parades, parties, concerns, and attracts millions of participants worldwide.[2]
History
Early gay pride
Christopher Street Liberation Day
Commemorate the Christopher Street Uprisings of last summer in which thousands of homosexuals went to the streets to demonstrate against centuries of abuse [..] From government hostility to employment and housing discrimination, Mafia control of Gay bars, and anti-Homosexual laws.

Christopher Street Day Committee Fliers for the first Pride event
One month after the Stonewall riots, The Christopher Street Liberation Day March took place in New York City, where people publicly claimed their identities. The Liberation Day March was organized by a bisexual woman named Brenda Howard, who also organized the widely-accepted "first Pride" event a year later. Her role donned her the title of "Mother of Pride" years later.[3] Marsha P. Johnson, a black transgender woman helped lead the LGBTQ+ movement, playing a pivotal role in the pride parade. She was a renowned drag performer, activist, and a major participant in the Stonewall riots. She attended meetings for the newly formed Gay Liberation Front, and became known as "Saint Marsha" throughout Greenwich Village.[4]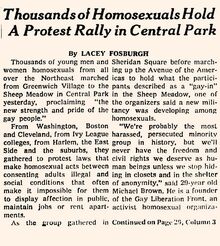 On June 28, 1970, on the first anniversary of the Stonewall riots, over seven hundred people marched on Greenwich Village's Christopher Street in New York City, in what is widely considered the first Gay Pride march. However, others view this as an anniversary march and not the first gay pride event.[1][2]
The Greenwich Village March to Central Park was organized by the Christopher Street Liberation Day Committee, though the concept of the initial Pride march stemmed from the Eastern Regional Conference of Homophile Organizations (ERCHO). The march was meant to give the community a place to gather in both protest and solidarity. The Mattachine Society of Washington participated in the planning and promotion, alongside activists in New York City. There was an estimated three to five-thousand marchers in the inaugural Pride in New York City.[2] There were approximately 15-blocks worth of people present.[5]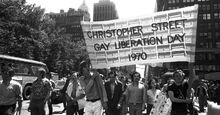 The march to Central Park adopted the theme of "Gay Pride" as a counterpoint to the prevailing attitude of shame.[6] Shirtless men walked hand-in-hand and proudly participated in PDA, picketers held signs with their orientations, and demonstrators shouted slogans such as, "gay, gay, all the way". The media coverage focused primarily on the marchers, but occasionally pointed to bystanders who were documented by journalists as being "obviously startled by the scene".[5]
The spread of Pride
The first march not to occur in New York was on June 27, 1970, in Chicago. 150 people marched from Civic Center Plaza to Washington Square as the chanted "Gay power to gay people". Simultaneously, a small group of San Franciscans marched on Polk Street, then had a picnic they called "gay-in". The "gay-in" was disbanded by equestrian police.[5]
The June 28th Pride in LA was met with resistance from the police as they refused to issue the permit needed for the march. After the unjust expectations of $1,500 payment and $1.5 million insurance bond, the activists took their claims to the local courts. They were later issued a permit for the following year.[5]
In 1978, the most-recognized symbol of Pride debuted in San Francisco with the rainbow flag. The symbol was adopted worldwide. These early demonstrations of pride celebrated being "out of the closet", individual freedoms, and diversity within the communities.[1]
Black pride
Black Pride, in regard to LGBTQIA+ spaces, is directly tied to the oppression of Ballroom culture. Ballroom culture remained underground for decades, even after Marsha P. Johnson's involvement in the 1970 Pride march. Black Pride celebrates a rejection of what America's dominant culture claims is "right". Marchers celebrate their beauty in queer spaces and sense of belonging. Black LGBT Pride celebrations started as a way to reconcile the identities of being both black and queer in a world that was not safe for either. Many queer people of color spoke on their discomfort of attending mainstream LGBT Pride events, due to the majority of attendees being white or non-welcoming.
From 1975 to 1990, the Club House held the social life for D.C.'s black gay community in an informal gathering called "Children's Hour". It was an elaborately themed and decorated party with drag performers and DJs. It began to welcome queer people of color from across the country. Los Angeles held the first Black Pride event with At the Beach in 1988. New York City's Black Pride began in 1997.[7]
Indigenous pride
In December 2017, Gabby Leon and Terri Jay discussed the lack of visibility and celebration of the Two-Spirit identities and wanted to have a festival that celebrated and honored Native American LBGTQ roles and traditions. Terri, who was very engaged in the Native American community, discussed the idea further with her friends - she wanted to celebrate Native American LGBTQ history and traditions. As they discussed how Indigenous identities had grown in visibility, they also acknowledged how far they still need to go. Ultimately, the group agreed that their proposed cultural event would, "honor, and acknowledge all Indigenous peoples' plight, especially those who are Two Spirit and/or identified with the contemporary labels and terms of cisgender and transgender lesbian, gay, bisexual, pansexual, queer, asexual, and intersex." This led to the creation of Indigenous Pride LA.[8]
Activism in pride marches
The idea of Pride was always foremost an activist liberation movement and a social political stand against inequality. The core beliefs of the founding were tied to the unjust discrimination against LGBTQIA+ people. As such, Pride activists gathered together on numerous occasions to fight unjust legislation.
On June 23, 1972, organizations petitioned the American Psychiatric Association to remove Homosexuality from the DSM-II. The list named homosexuality as a mental illness. Pride organizations formed throughout the US as a result.[9]
Pride marches garnered national attention on the 10-year anniversary of the Stonewall riots and the assassination of Harvey Milk. On October 13, 1979, pride marchers began the first National March on Washington for Lesbian and Gay Rights.[9] In the early 1980s, Pride shifted toward advocacy to gain awareness for the HIV/AIDS pandemic. A major organization that came from both Pride and the pandemic was ACT UP.[9] This political and social activism became central to Pride events, as many attendees carried posters with designated social issues of the day.[1]
By 1984, Pride celebrations had solidified a place in major cities across the US. Heritage of Pride was founded to take over the planning of New York City Pride events. The CSLDC (Christopher Street Liberation Day Committee) had formally disbanded by this point.[9]
In 1993, with the passing of the Don't Ask, Don't Tell legislation, gay rights remained at the forefront of Capitol Hill and New York. Heritage of Pride officially renamed the "Christopher Street Festival" to "PrideFest".[9] The same year, Brenda Howard successfully lobbied for bisexuality to be included in the 1993 March On Washington, an iconic Pride event. Previously, the event had focused on gay men and lesbians.[3]
On June 11, 1999, US President Bill Clinton issued a proclamation declaring June to be Gay and Lesbian Pride Month. The practice was picked up President Barack Obama, who declared June LGBT Pride Month for both his terms.[10]
By the 2000s, Pride marchers had shifted their focus toward Proposition 8 to legalize same-sex marriage in the United States.[11]
Modern day pride
In modern times, Pride parades became more organized and mainstream with each passing year. Hundreds of parades and festivals celebrate LGBTQIA+ pride around the world each June, or in other months. In 2019, an estimated 150,000 people celebrated Pride in New York City. They marched in a 12-and-a-half-hour-long parade while about five million people attended the city's Pride events.[5]
Commercialization of pride
International pride
In 1997, Heritage of Pride hosted the 16th annual international Association of Lesbian and Gay Pride Coordinators conferences, which was the first to participation from international Pride groups.[9]
The first WorldPride event took place in Rome, Italy, from July 1–9, 2000. It was organized by the Italian organization ircolo di Cultura Omosessuale Mario Mieli and helped by InterPride. Other countries followed suit, either hosting WorldPride themselves or sending delegates from their countries: Montréal Conference in Canada for non-English speakers (2003), Jerusalem for WorldPride event (2006), and Iceland with the first Nordic pride event (2004). In 2017, the Conference of international Pride delegates, awarded WorldPride to Madrid Pride.[12]
More than two million individuals attended the 2007 Europride event in Madrid.[1]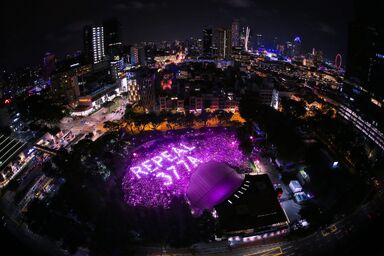 Singapore pride (Pink Dot SG)
Singapore's Pride event, named Pink Dot SG was first celebrated on May 16, 2009. It was celebrated at Hong Lim Park, the only designating space where protesting is allowed. Pink Dot has been celebrated for every year since at Hong Lim Park until the 2020 pandemic where the event was shifted online. One of the main objectives of Pink Dot is to raise awareness of LGBTQIA+ people in the country, their freedom to love and to support efforts to repeal Section 377a of the penal code. The Pink Dot event has been replicated in several countries including Anchorage, Hong Kong, London, Montreal, New York, Okinawa, Penang, Taiwan, Toronto, and Utah.[13]
In 2021, The Ambassador at large would use the existence of Pink Dot SG as example to the United Nations during the Third Universal Periodic Review in 2021 is exclaim that LGBTQ+ people are not discriminated in Singapore. Pink Dot responded saying, ""Pink Dot exists as a protest against discrimination towards the LGBTQ community. We are not a convenient excuse for the Government to claim that discrimination does not exist. The Government should also not be taking credit for Pink Dot's existence. Especially when our events are organised in spite of the obstacles placed in our way."
United Kingdom pride
Pride months
While most cities across the globe celebrate Pride in June, some cities opt for other months. Either due to weather or other circumstances preventing the celebrations from realistically taking place.[6] Many of the cities internationally user the organization InterPride to manage Pride celebrations.[12] The International Gay and Lesbian Travel Association has a calendar of over a hundred Pride events globally.[6]
February (Auckland)
June (United States pride month)
August (Vancouver)
November (Palm Springs)
Trivia
In 1995, a resolution passed by the General Assembly of the National Education Association included LGBTA History Month. It designated June as LGTA Pride Month.[2]
Media
"Gay and Proud" - Documentary on Pride history by Lilli Vincenz
Resources
Gay Pride Calendar (includes international/world cities)
Pride.com a magazine detailing numerous Pride topics in the media, including news, blogs, and articles regarding the LGBTQIA+ community.
References