Please take note:
This page discusses persecution and death perpetrated by the Nazis during the Holocaust. A symbol used to mark prisoners appears multiple times throughout the article. Reader discretion is advised.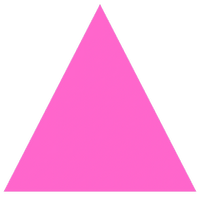 The pink triangle has been a symbol for various LGBTQIA+ identities. Initially used as a badge of shame for "gay men" in the Nazi Germany of the 1930s and 40s,[1][2] it was revived in the 70s and 80s as a symbol of protest against homophobia and ever since reclaimed as a positive symbol of self-identity and pride by the larger LGBTQIA+ community.[1]
History
Nazi symbol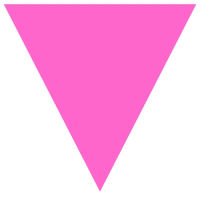 Before the use of the pink triangle, gay male prisoners in Nazi concentration camps were marked by a variety of symbols: a green triangle to identify gay criminals; a red triangle for gay political prisoners; the number "175" was used in reference to Paragraph 175 of the German penal code, which criminalized homosexual activity; or the letter "A", which stood for Arschficker and literally translates as "arse fucker".[3][4]
Afterward, the concentration camps started to require each prisoner to wear a downward-pointing, equilateral triangular cloth badge on their chest, the color of which identified the reason for their imprisonment.[5][6] The triangle was pink for anyone who was a gay man, bisexual man, or transgender woman, as well as a "sexual deviant", including zoophiles and pedophiles in addition to sex offenders. Those assigned a pink triangle were considered to be at the very bottom of the camp hierarchy.[1] Lesbians, bisexual women, and trans men were not systematically imprisoned, though when they were, some were classified as "asocial" and forced to wear a black triangle.[7]
Gay rights symbol
Expansion needed
This section is incomplete. You can help LGBTQIA+ Wiki by expanding it.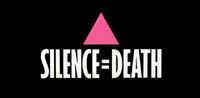 In the 1980s, the symbol was reclaimed by members of the LGBTQIA+ community and took on a more militant tone.[8] The AIDS Coalition To Unleash Power, formed by six gay activists in New York City in 1987, adopted an upward-pointing pink triangle on a black field along with the slogan "SILENCE = DEATH" as its logo.[1][9]
Monuments and memorials
The pink triangle has become a common symbol used in monuments commemorating the victims of anti-gay violence and those who died in the HIV/AIDS pandemic, as well as gay victims of the Holocaust. The first country to do so was the Netherlands, opening the Homomonument on September 5, 1987.[10][11]
See also
References