Lesbian pulp fiction is a genre of fiction that emerged after World War II. Previously, books were published in hardback format, but the new paperback format had made books less expensive to produce and much cheaper for consumers to purchase. One of the first paperback novels, Women's Barracks by Tereska Torrès, is now regarded as launching lesbian literature. It was published in 1950 through Fawcett's Gold Medal Books imprint, and its success led pulp fiction editor Dick Carroll to seek other authors to write lesbian-themed novels, starting with Spring Fire by Vin Packer (a pseudonym of Marijane Meeker) in 1952.[1]
Paperback novels
Women's Barracks
Nobody said 'lesbian' to me, nobody mentioned it. All I knew is that they all said it was terribly shocking, and I didn't know why they said that. I thought I had written a very innocent book. I thought, these Americans, they are easily shocked.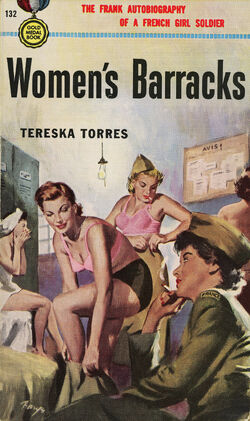 Women's Barracks, by Tereska Torrès, was published in 1950 by Gold Medal Books. The semi-autobiographical novel was based upon the diaries she kept as a member of the Free French Forces during World War II, novelized and published at the urging of her husband.[1] Torrès did not regard it as a "lesbian" novel, merely one that included sexuality in a way that Americans were not accustomed to, and she was not a lesbian herself. Women's Barracks became the first bestselling paperback original novel, selling two million copies in just its first five years, and is known as the first lesbian pulp. It was also subjected to a United States congressional committee on "current pornographic materials" that eventually allowed it to remain uncensored because it had "moral lessons" about the so-called "problem" of lesbianism; however, a Canadian court review ruled it obscene.[2]
In the novel, several women live together in the London barracks, including Ursula, Claude, Ann, Petit, and Mickey. The "real Lesbians" Ann and Petit distinguish themselves from other women who sometimes have sex with women. Petit and Ann only love women and they disdain Claude, who has had many male and female lovers; "They never considered her a Lesbian. They said of her, 'She's a pervert, a curiosity seeker.'" However, Claude serves as "a bridge between the Lesbians and the other women," keeping them from social isolation. Claude seduces the young and naive Ursula, but later she "sensed that Ursula was not really made for Lesbianism, and even felt a little guilty about having started the girl toward perversion."[3]
While Claude pulls away from Ursula and has casual encounters with Mickey, Ursula tries and fails to have sexual experiences with men until she falls in love with Michel, a Polish soldier. Before their marriage request can be approved, Michel receives his orders and departs for Normandy; Ursula finds out she is pregnant soon afterward. When Ursula learns Michel was killed, she deliberately overdoses and dies.[3]
Spring Fire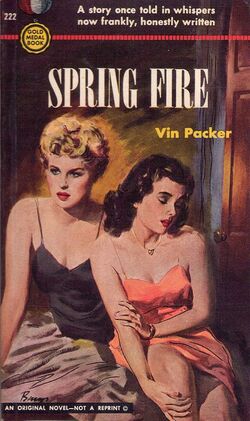 As "Vin Packer", one of her multiple aliases, Marijane Meaker wrote Spring Fire in 1952. The novel treats bisexual women as distinct from "the female homosexual, the Lesbian." Leda and Mitch are roommates and sorority sisters. The morning after Mitch is raped by a fraternity brother, she and Leda become lovers. Leda has a boyfriend and proclaims she has bisexual tendencies but is not a lesbian; however, it is important to date men for appearances. "There are a lot of people who love both and no one gives a damn, and they just say you're oversexed and they do not care. But they start getting interested when you stick to one sex." She warns Mitch to not be a lesbian.[4]
Mitch is ignorant of the term and consults books. They describe a lesbian as "abnormal, a female who could not have satisfactory relations with a male, but only with another female", while "a bisexual could love both sexes". The books also tell her that active homosexual tendencies can be controlled or eliminated.[4]
As Mitch and Leda come into conflict, a heartbroken Mitch sends Leda a love letter, leading Leda to recant her self-description as bisexual. They are caught in bed together by sorority supervisors. Leda betrays Mitch by framing the incident as an assault and turning over the letter. Afterward, Leda experiences a nervous breakdown and is sent to an institution, while Mitch has analyst visits with Dr. Peters to become heterosexual.[4]
Whisper Their Love
The 1957 novel Whisper Their Love was written by Velma Nacella Young under the pen name Valerie Taylor. Joyce begins her studies at a women's junior college alongside her roommate, Mary Jane. When they are on a double-date, Joyce refuses her date's advances, which makes Mary Jane think Joyce is frigid. Joyce goes to Chicago for her mother's wedding to Irv, and while out to dinner, she sees "two women at the next table, one fluttery in ruffles and the other solid in tweeds and flat heels". Irv tells her, "Those are Lesbians. You know, they go for women instead of men"; Joyce is surprised they are not being secretive. While Joyce is drunk and her mother is asleep, she learns from Irv that her mother is pregnant. Irv and Joyce have sex; Joyce is deeply ashamed afterwards and fears a possible pregnancy. The pair keep it secret.[5]
When Joyce returns to the school, she is distraught and seeks consolation from Edith, the Dean of Women, who is almost twice her age. Edith comforts Joyce and convinces her to stay in Edith's bedroom for the next day and night, although they will have to share Edith's bed. On the second night, they become lovers. As they carry on a secret relationship, Edith dates men to keep up appearances, educates Joyce about gay people and the discriminations they face, and shares her personal history of having an affair with a female teacher. When Joyce sneaks back into her dorm room one night, she finds Mary Jane is awake and crying because she has an unplanned and unwanted pregnancy. Joyce spends days helping Mary Jane get and recover from an illegal abortion by Dr. Prince, which leads to meeting the doctor's nephew, John. The time away from Edith cools off Joyce's passionate feelings, and Edith grows suspicious and jealous. John pursues Joyce and is confident they will marry someday after Joyce grows up and gets over her adolescent interest in another woman.[5]
Joyce and Edith attend a house party thrown by a lesbian and a gay man who are married, attended by many other gay people, and a club afterward. Joyce regards most of the guests as fake, dirty, and immature. She goes on dates with John, who eventually suggests that having sex with him would straighten her out. They rent a motel room, but do not follow through with having sex. Someone from the college witnesses their departure and reports it to Edith.[5]
Back at the college, Mary Jane wants to talk to Joyce, but Joyce says it has to wait. Edith confronts Joyce, throwing things and crying, and threatens to out her as they break up. Immediately after, Joyce finds Mary Jane's body; she died by suicide after getting pregnant again. After the funeral, Joyce confides in John and agrees to marry him as soon as possible.[5]
References