Trigger warning

This page discusses specific instances of persecution, abuse, and death, including details regarding the Holocaust. Although the photographs do not depict death or violence, some show victims of the Shoah and other people murdered by the Nazis. Reader discretion is advised.
Lesbian history during the Nazi regime is still being researched and compiled decades later. The experiences of lesbians and women accused of being lesbians are difficult to trace and cross-reference across scattered documents. Few women were identified as lesbians in official records kept during the Nazi era. Victims were not necessarily lesbians despite being documented as such by the Nazis; it is unclear how many of the allegations were false.[1]
Overview
Germany criminalized male homosexuality using Paragraph 175 of the Strafgesetzbuch (German Criminal Code). While Adolf Hitler's Nazi regime engaged in extensive, systematic persecution of gay men after 1933 and expanded Paragraph 175 in 1935 to arrest more men,[1] the regime declined to expand it to include sexual intimacy between women. Since the Third Reich required an increase in the "desirable" Aryan population—Nordic people who were Non-Jewish, non-Romani, non-Sinti, and otherwise "hereditarily fit"—the ultimate purpose of such women was marriage and motherhood. The Nazis believed women were only "pseudohomosexual" rather than truly homosexual and could be "cured" to serve their reproductive purpose;[2] they could be persuaded or forced to bear Aryan children.[1]
Although lesbianism itself was not illegal, lesbians were persecuted and punished in other ways. The Nazis disrupted informal gay and lesbian social networks, raided and closed their public meeting places, and put locations under surveillance. While some fled the country, others attempted to outwardly conform by entering marriages of convenience.[1][2] Denunciations—reports to the police by neighbors, family members, and friends—were used to investigate lesbians further, which could lead to arrest on other offenses, such as being connected to a resistance organization, engaging in subversive political behavior, or having friendships with Jews. Other lesbians were targeted for being Jewish themselves.[1]
Lesbians could thus be sent to Nazi concentration camps.[2] While gay men were primarily arrested for their sexuality and forced to wear a downward-pointing pink triangle, women were instead marked with whichever badge corresponded to their official reason for arrest and internment.[1] Some lesbians were marked as social deviants, grouping them with other "asocials"—sex workers, unemployed people, homeless people, professional criminals, and the Sinti and Roma people.[2] "Asocials" were required to wear a downward-pointing black triangle. Based on this, some lesbians have used the black triangle in a manner similar to how some people in the gay community have reclaimed the pink triangle as a defiant symbol.[3]
Survivors
Elsa Conrad
Elsa Conrad, née Rosenberg and nicknamed "Igel" ("hedgehog"), was born on May 9, 1887, in Berlin, Germany. She was married from 1910 to 1931 to Wilhelm Conrad; Holocaust researcher Claudia Schoppmann notes he may have been a gay man, and this may have been a marriage of convenience. Around 1927, she opened the lesbian club Monbijou des Westens in Berlin along with her friend Amalie "Mali" Rothaug, and it had approximately 600 members by 1928. She also ran a cigar store until 1932 with Bertha Stenzel, who was her lover for 14 years. When the Nazis seized power, Conrad's club was shut down by police in March 1933. She was arrested on October 5, 1935, following a denunciation that accused her of concealing her "non-Aryan" background and sexual orientation, and making "anti-state" remarks that Hitler was in a relationship with the deputy Rudolf Hess. She was sentenced to one year and three months in prison for "insulting the Reich government". Although she was released on January 4, 1937, the Berlin police and the Geheime Staatspolizeiamt (aka the Gestapo, the secret state police) had already filled out an order to send her to a concentration camp.[4]
On January 14, 1937, Conrad was sent to Moringen concentration camp for the alleged "offenses" that she "publicly posed as an Aryan" and "insulted the Führer and other members of the government in a vile manner"; she was also recorded as being "of lesbian disposition" and "maintaining relationships with women of lesbian disposition". She was told she would be released only if she agreed to emigrate to Palestine or elsewhere overseas, which was the procedure for "non-Aryan" prisoners at that time. Bertha Stenzel worked on her behalf to purchase a boat pass and attempted to get her a passport, but the authorities would not issue the passport and the boat pass expired. Conrad was released from Moringen in February 1938 and left on November 12 for Tanzania. She lived in Nairobi, Kenya until 1943. Seriously ill and in poverty, she returned to live in the Federal Republic of Germany (aka "West Germany") in 1961 until her death on February 19, 1963.[4]
Margarete Rosenberg
Margarete Rosenberg, née Quednau, was born on August 4, 1910, in Stettin, Pomerania (now Szeczin, Poland) and moved to Berlin when she was 21 years old. She had no vocational training and initially worked as a waitress, then later as a sex worker. From 1933 until August 1940,[4] she was subjected to various official harassments under prostitution laws, such as passing required STD tests. A former suitor[5] or former client, Arthur Rosenberg, began a brief and unhappy marriage with her in January 1935.[4]
Margarete was drafted to work as a tram conductor for the Berlin Transport Company (BVG) beginning on July 23, 1940. The job had formerly been reserved for men, but most of the company's male personnel had been drafted into the army. A few weeks later, her employer made a denunciation against her and multiple colleagues, including Elli Smula;[5] it is unclear if the two women knew each other.[4] Margarete was arrested and imprisoned on September 15 by the Secret State Police (aka the Gestapo). Gestapo-Office IV B 1 c, the section for "homosexuality" in the unit on "party affairs, oppositional juveniles, and particular cases", investigated women suspected of lesbian relations. The Gestapo documented as part of later proceedings against Margarete's husband:[5]
"The BVG received complaints that some female conductors who served in the tram station Treptow maintained regular intercourse with fellow women workers of their station — lesbian intercourse, that is. For instance, it was asserted that they took fellow workers with them back to their place, plied them with alcohol, and then performed homosexual intercourse with them. The next day, the women were consequently not able to carry out their duties. As a result, the operation of the tram station Treptow was severely compromised."[5]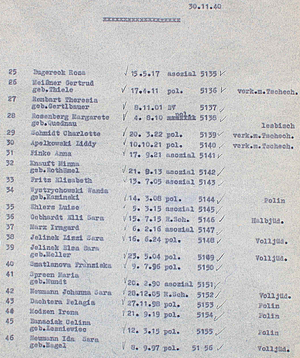 Margarete was considered the main culprit in the accusation. She became divorced sometime during her imprisonment. Enduring several interrogations by the Gestapo, during which she accused Arthur of pimping (which led to his criminal charges), she eventually "confessed" to "having taken part in drinking parties and having had homosexual intercourse with women". Sexual acts between women were not part of the criminal code as they were for men, but the Gestapo imposed "protective custody"[note 1] on her. On November 30, 1940, she was transferred from the police prison in Alexanderplatz to Ravensbrück concentration camp for "subversive conduct". Alongside her access list entry was a note: "lesbian". As a "political detainee", she had to wear a red triangle badge.[4]
She was transferred for a few days to court prison while testifying as a witness against Arthur in March 1941. During her testimony under oath, Margarete made a claim that she was pregnant by him. Despite being imprisoned at a concentration camp, she was investigated and eventually convicted for perjury when it was determined to be false. She was transferred from the court prison, where she had been incarcerated from August to November 25, to serve her one-year minimum sentence in women's prison. On September 12, 1942, she was sent back to Ravensbrück. She performed forced labor in the Siemens & Halske workshop and became a "prisoner functionary", a supervisor of her fellow prisoners who had to report to the Nazi's SS guards. In January 1945, she was transferred to the Magdeburg sub-camp at the Buchenwald concentration camp. She performed hard labor at the Polte armaments factory until the camp was liberated by American troops on April 13, 1945. Her health was damaged by four years and seven months of imprisonment, but she lived to marry twice more and died on March 20, 1985.[4]
Other survivors
Elisabeth "Lilly" Wust
Lucy Schwob (Claude Cahun)
Margot Liu
Marta Halusa
Martha Mosse
Suzanne Malherbe (Marcel Moore)
Deaths
Elli Smula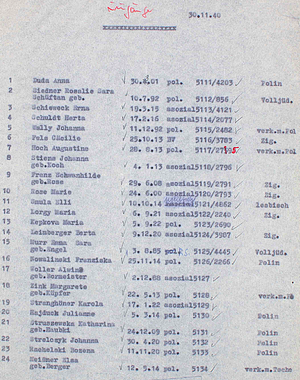 Elli Smula was born on October 10, 1914, in Charlottenburg, Germany, shortly after the beginning of World War I. Her father was a soldier who died in the war, leaving her and her brother to be raised by their mother, Martha Smula, who was not entitled to a widow's pension because they had not been married. By 1937, Elli and Martha lived in Berlin and shared a residence. Elli was unmarried and her personal life is unknown; no personal documents or party affiliation records have been uncovered. She was drafted to work for the Berlin Transport Company (BVG) and began on July 23, 1940, the same day as Margarete Rosenberg;[5] however, it is unclear if they knew each other.[4]
While Elli was at work on September 12, she was arrested based on a denunciation from BVG that she and fellow conductors had been drinking, having sex, and failing to carry out their duties the next day. While imprisoned, the Gestapo "homosexuality" section interrogated her at least four times, including on her 26th birthday. She had one supervised visit with her mother. Although the allegations of lesbian acts did not break the criminal law, she was charged with "severly compromising the operation of the tram station Treptow".[5]
She was deported to Ravensbrück concentration camp on November 30, 1940. Along with the comment "lesbian", she was noted as a "political" prisoner, which meant she had to wear a red triangle. Elli was able to exchange a few strictly censored letters with Martha. In July 1943, a notice was sent by the Ravensbrück administration to her mother to inform her of Elli's "very sudden" death on July 8, 1943. The precise cause of her death in the concentration camp is unknown; however, many others are known to have died from hunger, exhaustion, or disease at the overcrowded camp.[5]
A stolpersteine ("stumbling stone") memorial for Elli was laid in Berlin on November 11, 2015, at the address of her last chosen residence. It includes the dates of her imprisonment, deportation to Ravensbrück, and murder by the Nazi regime.[6]
Henny Schermann
Henny Schermann was born on February 19, 1912, in Frankfurt. Her mother, Selma, took over her own parents' shoe store in 1931. Henny and her sister helped at the business until anti-Jewish measures forced its closure. Afterward, Henny continued to work as a saleswoman through the 1930s.[4]
After January 1, 1939, Jewish women were required to add the name "Sara" after their first name to make them easier to recognize; not doing so was a criminal offense. On January 13, 1940, Henny was arrested. Although Jewish, she was categorized as a "political" prisoner when she was imprisoned at Ravensbrück concentration camp. She was temporarily sent to a court prison for violating the name ordinance by not adding "Sara" to her name, then sent back to Ravensbrück. At the end of 1941, she was selected for "Aktion 14f13", a systematic murder action overseen by physician and psychiatrist Dr. Friedrich Mennecke. His pseudo-"diagnosis" of Henny was: "A libidinous lesbian, frequented only such establishments. Avoided the name 'Sara'. Stateless Jew." Camp administration would claim she died on May 30, 1942; however, she was likely murdered at the Bernburg killing facility between February and April.[4]
Hertha Sobietzki
Hertha Sobietzki, née Kozy, was born on May 6, 1899, in West Prussia (now Poland) to a Jewish mother and father. Hertha married Karl Sobietzki in 1919, but they had separated by 1920 and divorced in 1931. She moved to Hamburg in 1923 and worked as a waitress and barmaid until around 1932. She sold homemade handiwork for some years. Although supported by the Hamburg Jewish Community until 1936, she was baptized Catholic in 1937. For three years, she rented out rooms in her residence to make a living. She did not register her business as she only accepted long-term guests. While the Gestapo were investigating Leo Schlesinger, a Jewish man who had stolen the registration form of Hertha's "Aryan" customer, Gustav Brunschede, she came to their attention under suspicion of "racial defilement" and was arrested on November 28, 1940. Although that particular charge was eventually dropped for lack of evidence, she was convicted for violating the "compulsory identification card requirement" and "failing to assume a Jewish first name"[7]—the mandate that Jewish women must add "Sara" to their first names to make them recognizable.[4] She had not done so because she did not want to be Jewish. During her interrogations, she "confessed" the following:[7]
I have had an abnormal disposition since my early youth. I have homosexual relations with women. Most recently, I met a girl two years ago at the Café Dreyer. She was 22 years old at the time. I cannot provide any particulars of the girl. I called the girl 'Bubi.'—I also do not know where the girl worked and where she lived. The relationship lasted about four to five months. Let me correct myself: The relationship lasted for about one year. With this girl, I had homosexual intercourse about two to three times a week. … The relationship broke down because she was bisexual. Apart from me, she also had male sex partners. I became jealous, and the whole thing broke off.

During my work as a barmaid, I always had only women as sex partners for my own pleasure. I met these women at the bar. Some of them were married women. … For two years, however, I have not had any dealings with women. I was afraid of entering into a relationship again, and apart from that, I also never found something suitable.

Hertha Sobietzki, forced confession to the Gestapo
After serving her sentence at the Fuhlsbüttel women's prison for not assuming the name Sara, Hertha was transferred to the Fuhlsbüttel concentration camp on February 27, 1941. On April 3, she was sent to Ravensbrück concentration camp. She was presumably deemed a "person unworthy of life" and murdered at the Bernburg killing facility in February or March 1942, with a death notice claiming she died at the camp on April 2, 1942.[7]
Mary Pünjer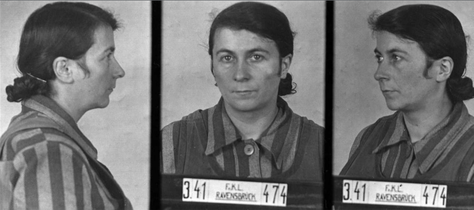 Mary Pünjer, née Kümmermann, was born on August 24, 1904, in Hamburg-Wandsbek. She was the youngest of three children in a Jewish family. Her parents, Joel and Lina, ran a ladies' clothing store that she worked at following her school-leaving examination. In 1929, she married a non-Jewish man, Fritz Pünjer; they had no children. After the Nazis took power, the Kümmermann family store was targeted in the boycott of Jewish businesses. It was destroyed during the Kristallnacht in November 1938. The family was forced to sell their property, which included their home, far below value. Fritz was drafted for the war in 1940.[4]
On July 24, 1940, Mary was arrested;[4] allegedly, she had visited prohibited establishments.[8] She was deported to Ravensbrück concentration camp on October 12, with the reason for her arrest noted as "asocial". Her prisoner number was 4841 and she was forced to wear either a black triangle or a combined black and yellow (in the shape of a Star of David) to mark her as Jewish. She was transferred back to Hamburg on November 30 for interrogation by a department responsible for sexual offenses. The list that documented her transfer was marked "asocial/lesbian". On March 15, 1941, she was transferred back to Ravensbrück. Holocaust researcher Claudia Schoppmann has uncovered evidence that Mary may have been housed with other "asocials" rather than with other Jewish prisoners. Mary was able to send and receive one letter per month, subject to censorship, until December 1941.[4]
Sometime by the end of 1941, Mary was selected for "Aktion 14f13"; men and women were picked by concentration camp staff and sent to SS doctors who then categorized them as "worthy" or "unworthy of life". Jewish prisoners like Mary had a "diagnosis" based on their arrest records. The murderer Dr. Friedrich Mennecke wrote that Mary was a "Married full Jew. Very active ('frisky') lesbian. Continually visited 'lesbian establishments' and exchanged caresses in the establishment." The camp administration would claim that Mary died of "heart failure" in Ravensbrück on May 28, 1942, but Mary was most likely murdered at the Bernburg killing facility between February and April 1942. Her sister and mother died in concentration camps, but her brother was able to emigrate to the U.S. in 1938.[4]
Mina Sluijter
Mina Sluijter was born on May 31, 1916, in Amsterdam[9] and worked as a seamstress. When the deportation of Dutch Jews began,[10] she allegedly was in a lesbian relationship with an "Aryan woman" whom she had visited. She was arrested on July 24, 1942, with an annotation: "taken into custody because of homosexuality 24-7-1942, also Jewish, moved to the Sicherheitsdienst".[11] She was sent to Camp Westerbork for deportation to Auschwitz, where she was murdered on September 30, 1942.[9]
Other deaths
Eva Kotchever (Eve Adams)
Felice Schragenheim
Hella Olstein Soldner
Notes
↑ The United States Holocaust Memorial Museum explains: "'Protective Custody' (Schutzhaft) was an instrument of detention that permitted secret state police detectives to take persons suspected of pursuing activities hostile to state interests into custody without warrant or judicial review of any kind. Protective custody most often meant indefinite internment in a concentration camp."
References
↑ 1.0 1.1 1.2 1.3 1.4 1.5 United States Holocaust Memorial Museum: "Lesbians under the Nazi Regime". Holocaust Encyclopedia. (Archived on January 12, 2022).
↑ 2.0 2.1 2.2 2.3 Schoppmann, Claudia. "Nazism". Lesbian Histories and Cultures: An Encyclopedia. Zimmerman, Bonnie (editor), Garland Publishing, 2000. ISBN 0815319207. (web archive)
↑ Old Dominian University: "Queer 101". Old Dominian University - LGBTQIA+ Initiatives. (Archived on October 25, 2021).
↑ 4.00 4.01 4.02 4.03 4.04 4.05 4.06 4.07 4.08 4.09 4.10 4.11 4.12 4.13 4.14 Schoppmann, Claudia. "Elsa Conrad – Margarete Rosenberg – Mary Pünjer – Henny Schermann: Vier Porträts". Homophobie und Devianz: weibliche und männliche homosexualität im Nationalsozialismus. Metropol, 2012. German. (web archive)
↑ 5.0 5.1 5.2 5.3 5.4 5.5 5.6 Schoppmann, Claudia. "Denounced as a lesbian: Elli Smula (1914-1943), working woman from Berlin". Testimony Between History and Memory. Translated from the German by Elisabeth Tutschek, 125, October 2017. English. (web archive)
↑ Schoppmann, Claudia: "Elli Smula". Stolpersteine in Berlin.
↑ 7.0 7.1 7.2 "Hertha Sobietzki (née Kozy) * 1899". Stolpersteine in Hamburg. (Archived on January 31, 2022).
↑ "Mary Pünjer (née Kümmermann) * 1899". Stolpersteine in Hamburg. (Archived on January 17, 2022).
↑ 9.0 9.1 "Holocaust Survivors and Victims Database: Mina Sluijter". United States Holocaust Memorial Museum. (Archived on January 17, 2022).
↑ Rankin, Jennifer: "Amsterdam 'stumbling stones' commemorate gay victims of Nazis" (2021-08-06). The Guardian. (Archived on December 27, 2021).
↑ "Gays and Lesbians in war and resistance". Bevrijding voor iedereen (Liberation for Everyone). (Archived on December 27, 2021).