Gladys Alberta Bentley (August 12, 1907 – January 18, 1960) was an American blues singer, pianist, and drag entertainer during the Harlem Renaissance.
Her career skyrocketed when she appeared at Harry Hansberry's Clam House in New York in the 1920s, as a black, lesbian, crossdressing performer. She headlined in the early 1930s at Harlem's Ubangi Club, where she was backed up by a chorus line of drag queens. She dressed in traditionally male signifying clothing (including a signature tailcoat and top hat), played piano, and sang her own raunchy lyrics to popular tunes of the day in a deep, growling voice while flirting with women in the audience.[2]
Early life
Bentley was born August 12, 1907, in Philadelphia, Pennsylvania (United States of America), the daughter of George L. Bentley and his wife, Mary Mote, a Trinidadian.[3] She was the eldest of four children in a low-income family. Growing up, Bentley always felt unwanted or rejected because her mother desperately wanted her to have been born a boy: "When they told my mother she had given birth to a girl, she refused to touch me. She would not even nurse me and my grandmother had to raise me for 6 months on a bottle before they could persuade my mother to take care of her own baby." She believed that growing up feeling rejected shaped her behavior; she never wanted a man to touch her, hated her brothers, wore boys' clothes, and had a crush on one of her female teachers in elementary school.[4] Gladys ran away from home at the age of 16 to live in New York City and pursued her talent as a pianist and Blues singer.[5]
Career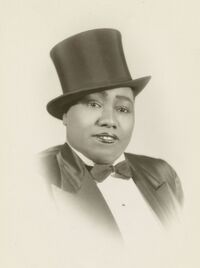 Gladys began her career at rent parties and buffet flats, before she moved to speakeasies and night clubs in Jungle Alley. Her signature look as a "mannish lesbian" with a deep voice appealed to straight, gay, black, and white audiences. She was especially prominent at The Clam House. Okeh Race Records released eight singles of her music between 1928 and 1929. She had her own weekly radio program by 1930. By 1933, she headlined nightclubs and theaters such as The Apollo and The Cotton Club. Gladys, along with eight men dressed in drag, became a prominent attraction for Ubangi Club from 1933 to 1937.[5]
In 1934, a midtown Manhattan nightclub called King's Terrace was padlocked by the police after an observer complained of the "dirty songs" performed there. The after-theater club near Broadway was where a troupe of "liberally painted male sepians with effeminate voices and gestures" performed behind entertainer Gladys Bentley, who was no less provocative for early 20th-century America. Performing in a signature white top hat, tuxedo and tails, Bentley sang raunchy songs laced with double entendres that thrilled and scandalized her audiences. While the performance of what an observer called a "masculine garbed smut-singing entertainer" led to the shutdown of King's Terrace, Bentley's powerful voice, fiery energy on the piano, and bold lyrics still made her a star of New York City nightclubs.[6]
Her name does not have the same recognition as many of her Harlem Renaissance peers, in part due to the risqué nature of her performances, which kept her out of mainstream venues, newspapers, and history books.[2] In modernity, Bentley's story is resurfacing, and she is seen as an African American woman who was ahead of her time for proudly loving other women, wearing men's clothing, and singing bawdy songs.[6]
Bentley's rise to fame demonstrated how liberated the Prohibition culture of the Harlem Renaissance had become and how welcoming the blues tradition could be to gay expression. She often confronted male entitlement and sexual abuse in her lyrics and declared her own sexual independence. This was, in fact, the continuation of a tradition begun by other singers of the early 20th century, particularly Bessie Smith, Ma Rainey, and Lucille Bogan, who were some of the most vocal musician critics of patriarchy of their time. Journalist Giovanni Russonello has stated that "Bentley was the first prominent performer of her era to embrace a trans identity, implicating her body differently in these acts of musical defiance".[3]
After the decline of the Harlem speakeasies with the repeal of Prohibition, she relocated to southern California, where she was billed as "America's Greatest Sepia Piano Player" and the "Brown Bomber of Sophisticated Songs". She tried to continue her musical career by playing in a number of gay nightspots but did not achieve as much success as she had had in the past. As times progressed and federal laws continued to change, there came a point that Bentley had to carry special permits to allow her to perform in men's clothing, and she was frequently harassed for wearing such attire. Although Bentley was openly lesbian early in her career and claimed to have married a white woman in Atlantic City,[7] during the McCarthy Era she started wearing dresses and said of her gender, "I am woman again!".[2] She stated in an article that she married a sailor named Don, which turned her back to the "path of normalcy".[8] By 1952, she had married a West Coast theatrical columnist named J. T. Gipson.[8]
Bentley also studied to be a minister, claiming to have been "cured" by taking female hormones. In an effort to describe her supposed "cure" for homosexuality, she wrote an essay titled "I Am a Woman Again" for Ebony magazine in which she stated she had undergone an operation, which "helped change her life again".[4]
Personal life and death
In 1930, Bentley lived with a woman named Beatrice Robert. In 1931, she had a public marriage to a white woman during a civil ceremony in New Jersey whose identity remains unknown. When she relocated to Los Angeles, she married J. T. Gipson,[8] who died in 1952,[9] the same year in which she married Charles Roberts; they were married in Santa Barbara, California, went on a honeymoon in Mexico,[9] and had a five-month-long courtship before their divorce. Both Gipson and Roberts denied ever marrying her.[9]
Bentley unexpectedly died of pneumonia at her home in Los Angeles on January 18, 1960, aged 52.[3] It was initially believed to be the Asian flu. At the time of her death, she had been more involved in the church and had just been ordained as a minister despite never getting her official paperwork. She is buried beside her mother at Lincoln Memorial Park in Carson, California.[10]
Legacy
Aside from her musical talent and success, Bentley has been a significant and inspiring figure for the LGBTQIA+ community and African Americans, and she was a prominent figure during the Harlem Renaissance. She was revolutionary in her masculinity: "Differing from the traditional male impersonator, or drag king, in the popular theater, Gladys Bentley did not try to 'pass' as a man, nor did she playfully try to deceive her audience into believing she was biologically male. Instead, she exerted a 'black female masculinity' that troubled the distinctions between black and white and masculine and feminine."[11]
Discography
Year
Work
Record Label
Notes
1928
"Worried Blues" / "Ground Hog Blues"
Okeh Records
1928
"How Long, How Long Blues" / "Moanful Wailin' Blues"
1928
"Wild Geese Blues" / "How Much Can I Stand"
with piano, not released
1928
"Wild Geese Blues" / "How Much Can I Stand"
with guitar
1929
"Red Beans and Rice" / "Big Gorilla Man"
1930
"Washboards Get Together" / "Kazoo Moan"
Victor
1945
"Boogie'n My Woogie" / "Thrill Me Till I Get My Fill"
Excelsior Records
as Gladys Bentley Quintette
1945
"Red Beans & Rice Blues" / "Find Out What He Likes (and How He Likes It)"
1945
"Big Gorilla Blues" / "Lay It on the Line"
1945
"Boogie Woogie Cue" / "Give It Up"
1945
"Notoriety Papa" / "It Went to the Girl Next Door"
1952
"Jingle Jangle Jump"
Swingtime Records
1953
"July Boogie" / "Gladys Could Play"
Trivia
References
↑ Bentley, Gladys: ""I am woman again", page 1" (August, 1952). queermusicheritage.com. Ebony Magazine.
↑ 2.0 2.1 2.2 "Gladys Bentley: Gender-Bending Performer and Musician" (2020-06-03). pbs.org. PBS.
↑ 3.0 3.1 3.2 3.3 Russonello, Giovanni: "Gladys Bentley: A gender-bending blues performer who became 1920s Harlem royalty.". https://www.nytimes.com/by/giovanni-russonello. New York Times. (Archived on January 17, 2022).
↑ 4.0 4.1 "Gladys Bentley - Ebony" (August, 1952). queermusicheritage.com. Queer Music Heritage. (Archived on January 17, 2022).
↑ 5.0 5.1 "Gladys Bentley - Black Past" (March 28, 2013). blackpast.org. Black Past.
↑ 6.0 6.1 Shah, Haleema: "The Great Blues Singer Gladys Bentley Broke All the Rules" (March 14, 2019). https://www.smithsonianmag.com/author/haleema-shah/. Sections. (Archived on January 17, 2022).
↑ Rodger, Gillian: "Bentley, Gladys" (2002). web.archive.org. GLBTQ. (Archived on January 17, 2022).
↑ 8.0 8.1 8.2 Bentley, Gladys: ""I am woman again", page 6" (August, 1952). queermusicheritage.com. Ebony Magazine.
↑ 9.0 9.1 9.2 "Bentley, Gladys" (July 24, 1952). queermusicheritage.com. Jet Magazine. (Archived on January 17, 2022).
↑ "Gladys Alberta Bentley". findagrave.com. Find A Grave. (Archived on January 17, 2022).
↑ Wilson, James. Bulldaggers, Pansies, and Chocolate Babies. June 16, 2010. ISBN 978-0472117253. (web archive)