Normal is a setting on a dryer.
Flawless Sabrina, also known as Mother Flawless Sabrina (September 10, 1939 – November 18, 2017), was an American activist, drag queen, and actress. She was a pioneer for transgender people and other drag queens, and a mentor to hundreds of queer and gender non-conforming youth. She retired from drag in 1969.[3][4][5]
Biography
Early life
Flawless Sabrina was born Jack Doroshow on September 10, 1939, in Philadelphia, PA. As a child he experimented with wearing women's clothing, trying on a dress in 1947[6] when he was just eight years old[5] after being inspired by his Aunt Bessie.[6] He often recounted his childhood as difficult due to his sexual orientation and his mixed Jewish and Italian heritage—particularly as his neighborhood was almost exclusively comprised of Italian South Philadelphians[1]
He was eager to experience the world outside of his self-labeled "19th and Tasker" bubble, and studied psychology at the University of Pennsylvania.[4] He worked two jobs, the first in a hospital and second as a car hop on roller skates. He was lucky to make $60 a week, and considered himself a slum kid.[7]
While on a trip to Manhattan with his friends in the late 1950s, Jack saw his first drag show at the Sloane House YMCA. He had been invited by two queens, Betty Grable and Estelle, from Pittsburgh. The place was packed and they paid a $5 admissions fee. They sat up on the balcony, and seeing how successful the event was believed that they too could make money doing similar performances.[7]
When Jack returned to Philadelphia, he and his friends staged their first drag pageant in 1959.[1] He called the only out homosexual person he knew, and started a phone tree because they did not have advertising. Up to his death, Jack did not know where the contestants came from, as it was all from word of mouth. After the contest, many parents of the performers chastised them horrifically; however Jack's mother, upon learning that he had earned ten times the amount his other jobs provided, simply said, "you go, girl" in response.[7]
Drag life
I just was like a cork in the ocean, and by serendipity became involved in something, which in retrospect looks like pioneering, but I don't think it was anything of the sort. It was just cultural change, and I happened to be in the right place at the right time — or the wrong place at the wrong time, depending on your point of view.

Sabrina describing her drag life
During his time at college, in 1959, Jack organized the Miss All-America Camp Beauty Pageant, a cross-country circuit of drag contestants that ended in the Nationals.[4] While he performed well in the pageants, the other queens disliked him as he was a "man in a suit coming in and profiting off them".[8]
He knew he had to improve his act, so at the age of 19, Flawless Sabrina was created.[1] He chose the name "Flawless Sabrina" as a subversive reaction to 1950s America. For a queer and gender non-conforming person to label herself as "flawless", despite society seeing her as anything but, was revolutionary.[3] Flawless Sabrina was a pushy Jewish grandmother who altered between being middle-aged and elderly.[1][4]
Flawless emceed the Pageants in this elderly Jewish character, as her presence as an emcee did not make the other contestants feel threatened.[4] She was meant to be a non-competitive mother, or grandmotherly figure to other queens. It was not until the second show he organized that he brought in a drag performer to host, and it was a huge success.[1]
One of the more popular beginning contests were in Atlanta, and they went to a sleep town and held a runoff for three days to limit the event to smaller groups. The contest lasted for 20 hours, and had people coming out of the woodwork "with hoop skirts and sausage girls and, 'Darling, get me a cocktail'".[7]
Because drag was heavily stigmatized in the 1960s—even within the gay community—Flawless had to carefully plan these events. She recounted having to use hotels in the back section of town, renting out ballrooms. The organizers would hang sheets as a canopy outside so people could enter without being seen. All the queen wore suits and ties as they entered to disguise their true intentions. Part of the need for the disguise was because cross-dressing was still a felony, and Flawless herself was arrested dozens of times;[5] prior to her death, Flawless estimated her arrest number as being over 100.[3]
From 1959 to 1969, Flawless ran her national drag pageant, Miss All-America Camp Beauty Pageant, across the nation with 46 shows a year. Every show ended in the Nationals competition in New York City. These events included many iconic performers who donned drag for the first time. She noted that spent a lot of his life angry over the felonies and fines. She was frequently driven to the county line and told to never come back, as they, "blamed me for bringing all those perverts to town".[6]
If a local city had a charity devoted to what is now known as transgender issues, Flawless would donate a portion of her proceeds. In this way, the Nationals helped create the very community that supported it. In the height of Miss All-America, Sabrina employed roughly 100 workers, which might have made her the largest employer of queer people in the 1960s.[2] In 1969, Flawless Sabrina hosted her final pageant at the Fire Island Pines, after which she officially retired from the drag pageantry world and contests.[1]
Making The Queen
In 1967, Bobby Kennedy secured the snazziest venue for the Nationals—The Ritz Carlton in Boston. Flawless called it a disaster. She likened the experience to fancy kids "here to see these monkeys dressed in dresses". It was than that she decided to make The Queen and retire. She contemplated Broadway, as David Merrick, the producer of Hello, Dolly! wanted an all-drag cast with Flawless as the lead. Jackie Kennedy telegrammed Flawless telling her to keep going, as Jackie wanted her cast. Instead, Merrick went with Pearl Bailey who won a Tony for the role in 1968. Flawless left for Hollywood.[2]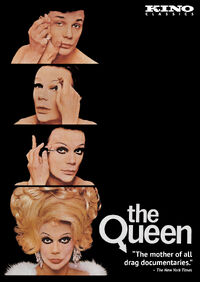 Andy Warhol had attended a competition in Pittsburg, though Jack had no idea who Andy was at the time. When the idea came to make a documentary about the shows, after the disastrous Ritz Carlton show,[2] Andy set Jack up with a benefactor.[6] Andy was also a judge for the pageant at one point.[9] The film, The Queen (1968), documented the 1967 nationals. Jack narrated the film as both "Jack Doroshow" and "Flawless Sabrina". The movie was directed by first-timer Frank Simon[6] abd brought in Hollywood talent like producers Lewis Allen (Lord of the Flies & Fahrenheit 451) and Sy Litvinoff (A Clockwork Orange & The Man Who Fell to Earth). The film took over a year to make and edit,[2] during which Sabrina was arrested several times while doing promotion for the film.[9]
On June 18, 1968, New York Times printed a review of The Queen, with the writer referring to the drag queens, in part, as, "they may be absolutely miserable (like others) in their private lives, but in their costumed appearances they enrich the landscape enormously. One grows fond of all of them. They are much more entertaining than the conventional Miss This or Miss That". The author called the film in all, "an extraordinary documentary".[10] Flash-forward to 1972, a poster for The Queens can be spotted in the cult classic Pink Flamingos.[2] In 2014, the Prime Video series Transparent used stock footage of the shimmering footage from The Queen in its opening credits.[9]
The film is rated triple X, but has no sexual content. This barred the film from being accessible to a wide audience, though by the late 1980s Flawless had successfully petitioned the film to be added to the New York Public Library.[11]
In 2019, thanks to a team of film preservationists, the Outfest UCLA Legacy Project, UCLA Film & Television Archive, the Harry Ransom Center, and spear-headed Kino Lorber, the film was restored in 4K resolution.[12] It is available to rent and/or stream on Netflix, Vudu, Amazon Prime Video, YouTube, Google Play Moves & TV, Apple TV, and Apple. It is known for being a trailblazing force in publicizing the LGBTQIA+ community.[8]
Hollywood life
Flawless retired from the pageant world to 72nd Street, right off Central Park.[2] She became known as an expert in homosexuality in the film industry, and consulted on several Hollywood films, including Midnight Cowboy (1969). Her most infamous consultation, perhaps, is on Butch Cassidy and the Sundance Kid (1969). She was employed to ensure Robert Redford and Paul Newman's characters did not appear "too gay, just gay enough". She went on to consult for Myra Breckinridge (1970).[1][13] Some directors wanted to ensure they got the gay details, while others wanted to avoid including any gay or gay-aligned content. No matter what they asked, she did the same thing—nothing. Her agent told her to find a place where the light was in their eyes and then stay quiet.[2]
After five years of living across both coasts, she left the consultation industry to work with her good friend Rona Jaffe, who dedicated the novel The Fame Game to Flawless. They worked on several things, including selling the film rights to the musical Hair. The 70s were in full affect at this point, and she balanced both disco and skin perfectly. She produced a pornographic film, and her half-brother Gregg Diamond wrote and produced the song "More, More, More" for it. The song hit #4 on the 1976 Billboard Top 100. Gregg was worried about the porn connection, so she learned how to sell the music rights separately from the film.[2]
Her quest found her in the Cannes where she used her connections to find the French diplomat, novelist, and pederast, Roger Peyrefitte. He was looking for help to turn his boyfriend's boyfriend into a pop star, so Flawless became his scribe. When she briefly worried about losing her New York apartment, Roger simply bought the building for her. The duo jetted around the world, with her estimating forty-six countries in ten years, but she disliked working for someone else. She disliked the way he "put weird people in strange situations" for entertainment. It was the same gawking that drove her from pageants. By the 1980s, she was ready to return to the states.[2]
She returned to Hollywood for a starring role in the Michelle Handelman film, Irma Vep, the last breath. She starred opposite Zackary Drucker, and they portrayed the connections of intergenerational queer kinship. Drucker later become one of Flawless's granddaughters.[9] In 2014, she guest starred in She Gone Rogue, a film by Zackary Drucker and Rhys Ernst.[7]
Mentoring a new generation
Flawless went on to mentor many young gay people.[6]
Flawless returned to New York in the height of the HIV/AIDS pandemic, where many of her friends died. She made a choice to go with the kids instead of the elders, and found herself among a group determined to maintain the mantle of extravagance despite the tragedy: club kids. She made costumes for esoteric theme parties at Crisco Disco and Mother. It was at one of these parties that she met Ceyenne, a teen living in Central Park. Flawless took Ceyenne under her wing and took her upstate to live with Flawless's mother, while they made a plan for Ceyenne to take control of her life. She got a job, finished her education, and became an activist. She was invited to an out-of-state conference, and called Flawless; she wanted to leave her birth name behind. She wanted to become Ceyenne Doroshow, the surname that Flawless was born with. Ceyenne was the first of many daughters and granddaughters that Flawless mentored over the decades. Ceyenne now works for the largest food bank in New York City, is a public speaker, activist for trans issues, and homeless youth activist. Flawless remained adamant that Ceyenne rescued her by "keeping her young and connected to the world".[2]
In the late 90s or early 2000s, Flawless met Zackary Drucker in New York. They met at Wigstock and Zackary took a picture of Flawless, as she was all dressed-up in Victorian garb. Flawless told Zackary she was on the wrong side of the camera. Zackary hung the photo on her wall and began seeing Flawless around, and the pair became friends.[7] One night, Flawless hosted an opening for a photographer of trans Brazilian women, in which Zackary attended. She was welcomed to the party with a greeting from an unknown person who said, "Welcome to the time capsule, God knows if we're going forward or back". From than on, Zackary clung to "Grandma" gleaning wisdom from her. They were inseparable friends for over twenty years. Zackary was present when Flawless passed away.[14] Flawless considered Zackary to be her grandchild.[7]
When Flawless faced potentially losing her apartment when her former boss Roger Peyrefitte died, and the Swiss bankers wanted to removed Flawless and up her rent. They claimed she was a hoarder. With the help of a pro-bono lawyer and her grandchildren/children, they secured help from New York Legal Assistance Group, and the eviction never happened.[2]
In 2002 she befriended, mentored, and became the grandmother to Charles A. McDonald. Others include but are in no way limited too: Thomas Flannery, Liss LaFleur, Brandon Olson, Hugh Ryan, Philip Treviño, Dirty Martini, Matthew Charles Croslnd, Niko Colorio, Michelle Handelman, Noel Alicea, blue Bayer, Jo E. Jeffreys, Buzz Slutzky, Jade Barbee, Justin Vivian Bond, and Philip Gutman.[4]
Around 2015, she took in another child, Taylor Mac, and Flawless inspired Taylor to transform herself. Flawless's mantra "ur the boss, Apple Sauce" inspired Taylor immensely.[15]
In approximately 2016, she met Chase Strangio, whom she taught to be the best, strongest, and most patient version of himself. He wrote an article about how she had changed his life and helped him find the beauty in each day.[4][16]
National Academy
Sabrina was a central figure in a renegade transgender movement that traveled the American underground. Through her drag organization, the National Academy, Sabrina came head-to-head with a monolithic American majority that loathed gender diversity… There were at least 100 people on Sabrina' s payroll, most of them queer in one way or another. Together they ran 46 shows a year, which means nearly every week for a decade there was a traveling, countercultural transgender collective.

Tourjee on Flawless' National Academy impact,

[3]
Later life and death
You're working through the same problems, but you're working through them from a less angry place. That's a miracle.

Sabrina to Diana Tourjee

[6]
Her activism did not stop after her retirement, as she went on to attend domestic partnership rallies. She dressed in drag and waited in line there, but was hated so deeply by conservative gays that she left.[6] She became involved in polities, as she advocated for gay marriage and worked with Hillary Clinton on transgender issues.[13]
She mentored youth and filled the role for an entire generation who had either lost their grandparents, or were losing their grandparents, to the HIV/AIDS pandemic.[6]
In 2014 and 2015, Flawless became a tarot card reader with the help of Zackary Drucker. She learned tarot from her grandmother between the age of six and seven. Flawless viewed the cards as a device, as it was really about communication between people and the energy. The cards were a point of view. She added, "No more than you want sexuality to be brittle, neither with the cards. And if there's going to be any flexibility, let it be toward positive energy. Let it be about encouragement. Let it be about something that will put wind in your sails".[7]
Legacy
Pageant legacy
The legacy of the Nationals alone is one that is felt into modern da. In an era before the world accepted queer people, Flawless's pageants were open to all regardless of race or gender. She made a circuit out of the pageants that helped shape the way such pageants are held. Crystal Labeija, runner-up in The Queen, would go on to be the first to invoke the "House of" language that is now common parlance in the ballroom scene.[2]
Tributes
In 2011, Flawless was the subject of a tribute show at Leslie-Lohman Museum of Gay and Lesbian Art. It began with a screening of The Queen, followed by readings and other salutations. Flawless read her book at the event.[17] She was an honored guest at the 2016 Gay Gotham exhibit at the Museum of the City of New York, which featured clips from The Queen.[4]
Flawless Sabrina Archive
Mission statement regarding FSA[18]
Flawless Sabrina Archive's mission is to preserve the lifework of Flawless Sabrina as a resource for artists, activists, and scholars. The research and documentation conducted by FSA will be used to incite intergenerational discourse for the benefit of current movements in the arts and politics. The collection will be regularly shown and made available to the public. It is the foundation of the organization's expanding scope, inspiring future projects in order to continue the work of our namesake indefinitely. Flawless Sabrina Archive resides at the convergence of the past and present in countercultural subject matter, enriching society through the documentation of history and the empowerment of difference.
After working tirelessly to secure the funds needed to sort through and store Flawless's life collections, including telegrams from Jackie O., the goal of $20,000 was raised on December 8, 2014. The New York Public Library approached FSA regarding an exhibit, which is the last update given to donators.[19]
Trivia
She was the spiritual grandmother of Zackery Drucker.[3]
Her biography was written by Diana Tourjee.
In the 1980s, Flawless worked as a private investigator and fixer in Paris.[4]
External links
Media
Notes
↑ Flawless Sabrina stated that everyone who cared about him called him Jack. When working, Sabrina exclusively used she/her pronouns.[1] Flawless's answer to a writer on preference for name or pronoun was "no-at your pleasure". Her biographer Diana Tourjee admitted that, "People refer to Flawless by the way in which they identify with her".[2]
References
↑ 1.0 1.1 1.2 1.3 1.4 1.5 1.6 1.7 "Flawless Sabrina: Queer Icon and Star of 'The Queen'" (2021-08-20). pbs.org. American Masters.
↑ 2.00 2.01 2.02 2.03 2.04 2.05 2.06 2.07 2.08 2.09 2.10 2.11 2.12 Ryan, Hugh: "Queen Sabrina, Flawless Mother" (2015-03-07). vice.com. Vice.
↑ 3.0 3.1 3.2 3.3 3.4 3.5 Iovannone, Jeffry J.: "Flawed History: Mother Flawless Sabrina and Queer (In)visibility" (2017-11-22). medium.com. Medium.
↑ 4.0 4.1 4.2 4.3 4.4 4.5 4.6 4.7 4.8 McDonald, arles A.: ""Whatever You Do Is Perfect": Remembering the Queer Mentorship of Flawless Sabrina" (2017-11-27). slate.com. Slate.
↑ 5.0 5.1 5.2 Avery, Dan: "Drag Icon And LGBT Activist Mother Flawless Sabrina Passes Away At Age 78" (2017-11-18). newnownext.com. New, Now, Next.
↑ 6.0 6.1 6.2 6.3 6.4 6.5 6.6 6.7 6.8 Moore, Chadwick: "Why Drag Icon Mother Flawless Sabrina is a Hero" (2015-01-13). out.com. Out Magazines.
↑ 7.0 7.1 7.2 7.3 7.4 7.5 7.6 7.7 Doroshow, Jack; Drucker, Zackary; Sherman, Elisabeth: "Interview: Flawless Sabrina, Zackary Drucker, and Elisabeth Sherman" (2015-10-23). whitney.org. Whitney Museum of American Art.
↑ 8.0 8.1 Rivieccio, Genna: "Drag Innovator Flawless Sabrina Bows Out of This Life" (2017-12-14). thepridela.com. The Pride LA.
↑ 9.0 9.1 9.2 9.3 Colucci, Emily: "The Queen Is Dead, Long Live The Queen: A Tribute To Mother Flawless Sabrina" (2017-11-20). filthydreams.org. Filthy Dreams.
↑ Adler, Renata: "Screen: 'Queen' of Drag Is Crowned:Documentary Depicts a Camp Beauty Contest Two Shorts Share Bill at Kips Bay Theater" (1968-06-18). nytimes.com. New York Times.
↑ Musto, Michael: "Glory in a transitional drag moment with Jack Doroshow aka Flawless Sabrina" (2016-04-19). villagevoice.com. The Village Voice.
↑ Jerry Portwood: "Why 'The Queen' Documentary Is an Essential Queer Time Capsule". rollingstone.com. Rolling Stone.
↑ 13.0 13.1 Gawlica, Helaine: "Zackary Drucker and Flawless Sabrina At Least You Know You Exist (Excerpt) (2011)" (2017-05-09). hemisphericinstitute.org. Hemispheric Institute.
↑ Drucker, Zackary: "Honoring Mother Flawless Sabrina, The Queer Icon Who Taught Me How to Live" (2018-03-21). them.us.
↑ Mac, Taylor: "Holiday Sauce Dedication" (2020). taylormacholidaysauce.com.
↑ Strangio, Chase: ""You're the boss, applesauce": How Flawless Sabrina Changed My Life" (2017-03-27). chase-strangio.medium.com. Medium.
↑ Michael Musto: "Flawless Sabrina Gets a Tribute" (November 9, 2011). villagevoice.com. The Village Voice.
↑ Zackary Drucker and Diana Tourjee: "Flawless Sabrina Archive Kickstarter Mission Statement". kickstarter.com.
↑ Zackary Drucker and Diana Tourjee: "Flawless Sabrina Archive: Update Posts". kickstarter.com.