Drag is a type of performance art created by the queer community that involves exaggerated attire resembling the opposite sex, or other forms of gender expression.[1][2] The artform originated in the late 16th and early 17th centuries, though the concept of "crossdressing" has been around far longer.[3]
History
Pre 1800s
It has been well-documented that women in theater has historically been the "exception rather than the rule".[4] This included the Ancient Greeks, who initiated a ban that would be propagated by the Christian movement and would therefore remain until the 17th century.[4][5] Some of the most well-known examples of historical drag can be attributed to Shakespeare and his manipulation of gender on both the stage and within the characters themselves.[3][6]
19th Century
Drag balls
The first person known to describe himself as "the queen of drag" was William Dorsey Swann, a former slave born in Hancock, Maryland. In the 1880s, Swann started hosting drag balls in Washington, DC attended by other formerly enslaved men. These balls were often raided by local police, some raidings even making the newspapers.[7] In 1896, Swann was convicted and sentenced to 10 months in jail on the false charge of "keeping a disorderly house" (running a brothel) and requested a pardon from the president for holding a drag ball. The request was denied.[7]
Minstrel shows
Development of the drag queen in the United States was influenced by the development of the blackface minstrel show.[8] Originally the performers would only mock African American men, but as time went on they found it amusing to mock African American femininity as well. They performed in comedic skits, dances, and "wench" songs.[9]
Vaudeville shows
Minstrel shows eventually helped to inspire vaudeville shows in the late 1800s and early 1900s.[8] In addition to the "wench players", minstrel shows developed the role of "prima donnas", who appeared more elegant and refined while still retaining their comedic elements.[9] While "wenches" originated in the Americas, the concept of "prima donnas" was inspired by both American and European crossdressing shows, such as performances seen in Shakespearean plays. With the United States shifting demographics, including the shift from farms to cities, Great Migration of African Americans, and an influx of immigrants, vaudeville's broad comedy and music expanded the audience from minstrelsy.[8]
As vaudeville became more popular, it allowed female impersonators to participate in the genre. Many female impersonators started with low comedy in vaudeville and worked their way up to perform as the prima donna.[10] They were known to perform song and dance routines with multiple outfit changes. In New York City, famous female impersonator Julian Eltinge found success, and he eventually made his way to the Broadway stage performing as a woman.[8][10]
At this time, being a female impersonator was seen as something for the straight white male, and any deviation was punished.[8] Connection with sex work and homosexuality eventually led to the decline of vaudeville. Both the minstrelsy and vaudeville eras of female impersonation led to an association with music, dance, and comedy that still lasts today.[10]
20th Century
America
By the turn of 20th century, drag was heavily tied with the LGBTQIA+ community, and was thus outlawed in various parts of the world. This forced queer people involved with the artform to go underground, often going to (and sometimes even founding) nightclubs.[2][9] These nightclubs have been around as far back as the 1920s, continuing the tradition of throwing drag balls and competitions. Often, these balls were only held at night, in disreputable areas. Here, female impersonation started to evolve into what we today know as drag and drag queens.[11] Drag queens such as José Sarria[12] and Aleshia Brevard[13] first came to prominence in these clubs.[8] People went to these nightclubs to play with the boundaries of gender and sexuality and it became a place for the LGBTQIA+ community, especially gay men, to feel accepted.[14] As LGBTQIA+ culture has slowly become more accepted in American society, drag has also become more, though not totally, acceptable in today's society.[11] In the 1940s and 1950s, Arthur Blake was one of the few female impersonators to be successful in both gay and mainstream entertainment, becoming famous for his impersonations of Bette Davis, Carmen Miranda, and Eleanor Roosevelt in night clubs.[15]
Ballroom culture
Ballroom culture originated in parts of New York in the 1970s. These events involved owning the runway in the finest drag around in order to wow the judges and go home with a clutch of trophies.[2][16][17] The concept of the 'drag' mother first arose as part of the ballroom culture of the 20th century. Experienced queens would take up-and-coming drag artists under their wing to show them how to work a stage as well as their look. They often provided a home to youngsters who may have been going through a difficult time in their lives, and not just those intending to enter the drag world.[17][18]
This led to drag mothers becoming known as the head of their House, making them responsible for an entire drag family. Whatever the mother's surname, their drag children were allowed to adopt it, or even have their stage name chosen for them by their mother.[17]
Drag families feature heavily in the 1990 drag ball documentary Paris is Burning (which inspired Madonna's "Vogue"), with the House of Xtravaganza and the House of LaBeija among those featured.[16]
Stonewall riots
Drag queens were involved in the Stonewall riots, a series of spontaneous demonstrations by members of the LGBTQIA+ community against a police raid that took place in the early morning hours of 28 June 1969, at the Stonewall Inn, located in the Greenwich Village neighborhood of Manhattan, New York City.[19] The riots are widely considered to be the catalyst for the gay liberation movement and the modern fight for LGBTQIA+ rights in the United States. Figures such as Sylvia Rivera and Marsha P. Johnson, of which the latter also identified as a drag queen, were at the very forefront of this movement.[20][21]
Europe
In Berlin, the sheer number of cross-dressing balls that occurred in the late-19th century up into the 1930s was astounding.[2] Known as "Urningsballs" or "Tuntenballs", they were elaborate gatherings that drew crowds of hundreds from all across Europe, despite the fact that it was still illegal to be gay in Germany. These ballrooms became fleeting community spaces for "uranians" (shorthand for those believed to be of a third sex, with a female psyche in a male body), and held court at the Dresdner Straße, Deutscher Kaiser, Dresdener Casino, the El Dorado, and other sprawling venues.[2]
In nearby London, there was the infamous case of Frederick Park and Thomas Boulton or "Fanny and Stella". Now believed to be female transvestites, they began their careers on-stage as drag performers with their act, "Stella Clinton" (or "Mrs Graham") and "Fanny Winifred Park".[2] Eyebrows began to rise, however, when they consistently wore women's clothes to swish gatherings at the West End and other social events. In 1870, during an otherwise normal night at the theatre, they were both arrested by the police and thrown into court for "supposed homosexual acts".[2] In the late 1800s to the mid-1900s, pantomime dames became a popular form of female impersonation in the UK and other parts of Europe. This was the first era of female impersonation in Europe to use comedy as part of the performance, contrasting with the serious Shakespearean tragedies and Italian operas.[11] The dame became a stock character with a range of attitudes from "charwoman" to "grande dame" that mainly was used for improvisation.[11] The most famous and successful pantomime dame was Dan Leno. After World War I and World War II, the theatre and movie scenes were changing, and the use of pantomime dames declined.[2]
Queens in Paris participated in the "Carnaval interlope", a drag competition with impressive hosts like Josephine Baker.[2]
In major eastern European cities such as Moscow and St. Petersburg (from 1924 to 1991 Leningrad) a social climate originated in which the social and moral standards were less stringent than in rural areas.[22] In these cities, the LGBTQIA+ community began to define its own rules and spaces. There were parties on which men in women's clothes met to celebrate together. However, this small window of freedom where open only twelve years, until 1934, when Stalin's policies ban gay and lesbian rights of their own sexuality again. Gay contacts were now considered as a crime and lesbian love has been classified as a personality disorder.[22] To pursue drag activity meant exposing yourself to danger because if you get caught or denounced, threatened with a punishment of up to five years of forced labor or in prison. In addition, homosexuals and other "mental patients", including men in women's clothes, were often held indefinitely in psychiatric clinics instead of jail sentences and forced to undergo a "treatment".[22]
In the mid to late 1900s, partially influenced by progress made by the LGBTQIA+ community in America thanks to events such as the Stonewall riots and organizations such as ACT UP, social values surrounding LGBTQIA+ rights in (mostly western) Europe started getting more progressive, and with that, social values surrounding the art of drag.[23]
Entering popular culture
From the 70s through 90s, drag slowly started to enter popular culture. People like Divine, Huysuz Virjin and RuPaul Charles were trailblazers when it came to bringing drag to large audiences.[24]
The aforementioned Divine, born Harris Glen Milstead, starred in around twenty John Waters movies during her career.[24][25] One of the most notable being Pink Flamingos. In the original Hairspray film, Divine played the part of Edna Turnblad, mother of Tracy, the film's main character. Due to the obscurity of a male actor playing the part of a female character, the part of Edna Turnblad has exclusively been played by male actors ever since the character's debut.[24] The popular Disney character Ursula the Sea Witch was designed after Divine's likeness.[24]
After the smashing success or her debut single "Supermodel of the World" in 1993, RuPaul Charles broke barriers as the first ever drag queen to host her own television show, airing on VH1 from 1996 to 1998.[26][27] RuPaul later became the first drag queen to be on the cover of Vogue in 2019.[28]
Films like Mrs. Doubtfire, The Rocky Horror Picture Show and To Wong Foo also helped the popularity of drag in mainstream media.[29][30][31]
21st Century
Popular culture and mainstream media
The 21st century allowed the popularity of drag to grow very rapidly. Shows like RuPaul's Drag Race (2009–present) brought a great variation of drag and drag artists to the public eye, even sprouting several international spinoff shows. The success of Drag Race allowed for other well-known drag competition shows to be brought to life, such as The Boulet Brothers' Dragula, La Más Draga and Queen of the Universe.[32][33]
However, many claim that these shows and the level of polishedness their contestants strive for has provided a distorted image of what drag "is". Many venues and their performers showcase a more raw or unpolished style of drag that's been deemed underrepresented in mainstream media.[3]
The presence of drag artists during Pride marches around the world has also helped the growing acceptance of the artform. New York Pride and Amsterdam Pride are some of the most influential Pride marches in North America and Europe, respectively.[34][35]
Eurovision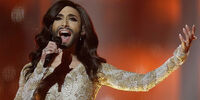 The Eurovision Song Contest, founded in 1956, has been a platform for LGBTQIA+ artists for decades; and drag performers are no exception. Verka Serduchka, representing Ukraine in 2007, was the first drag artist to perform on the Eurovision stage with the song "Dancing Lasha Tumbai". Serduchka managed to get Ukraine to 2nd place (out of 28 countries). Seven years later, Austrian singer Conchita Wurst became the first drag artist to win the singing competition.
Types of drag
People partake in the activity of doing drag for reasons ranging from self-expression to mainstream performance. Drag shows frequently include lip-syncing, live singing, and dancing. They occur at events like gay pride parades, carnivals and drag pageants and in venues such as cabarets and nightclubs. Drag artists vary by type, culture, and dedication, from professional actors who star in films to people who do drag for a living.
Drag Queen
A drag queen is a person who uses drag clothing and makeup to imitate and often exaggerate female gender signifiers and gender roles for entertainment purposes.[36] In modern times, drag queens are associated with gay men and gay culture, but they can be of any gender and/or sexual orientation. Female drag queens often don the term "AFAB queen" or "hyper queen". A drag queen typically goes by she/her pronouns when in drag.
Drag King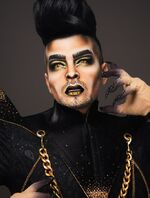 A drag king is a person who uses drag clothing and makeup to imitate and often exaggerate male gender signifiers and gender roles for entertainment purposes.[37][38] In modern times, drag kings are associated with lesbian women and lesbian culture, but they can be of any gender and/or sexual orientation. Male drag kings often don the term "AMAB king" or "hyper king". A drag king typically goes by he/him pronouns when in drag.[39]
Alternative Drag and Genderfuck
People who consider their drag androgynous and/or otherwise not fitting within the gender binary, may be more comfortable labeling their drag as 'alternative drag' or 'genderfuck'. They may be inclined to use terms such as 'drag artist' or 'drag performer' in favor of the typical 'queen' or 'king', but this is not always the case.[40]
Celebrity Impersonation
Another form of drag is the art of celebrity impersonation. Artists may also use drag clothing and makeup in order to impersonate a celebrity of the opposite sex. These types of acts are less commonly found in most regular bars and nightclubs. The Las Vegas Strip (United States) is a hotspot for drag celebrity impersonators, catapulting the careers of artists such as Chad Michaels,[41] Derrick Barry[42] and Larry Edwards.[43]
Drag in fashion and beauty
The makeup techniques of drag performers over 50 years ago have been slowly incorporated into the beauty looks we see today. Drag makeup had to be exaggerated for performers to be visible under stage lights, taking advantage of dramatic highlight and contour. These were very industry-only methods, used in theater and perfected by drag queens to give the illusion of a more feminine or masculine facial structure. Contouring was almost exclusive to performances, until social media came into play about a decade ago. The increasing number of TV shows and the rise of social media paved the way for audiences to see these less mainstream techniques.[44]
Nowadays, many people use contouring in their daily makeup routine without knowing its origins of allowing audiences of the past to have a sharp view of a person's face from the back of the room or theater. The same goes for overlining lips, which many drag performers have done for decades. Modern society subconsciously took the creative and brilliant ideas of these drag performers and incorporated them into the mainstream.[44] Although drag shows like RuPaul's Drag Race are becoming more popular, drag kings and queens often do not get specific credit for creating these ideas and techniques, working out the kinks, and paving the way for others to latch onto them.[44]
Fashion may be even more influenced by the history of drag balls and the striking outfits that go along with them. Although women have used shapewear throughout history, many drag performers re-popularized the body type of exaggerated curves. Drag was not the beginning of the excitement around defining a woman's body shape — it dates back to the Victorian era. During this time, there was a similar "ideal" feminine body shape, achieved through cinching the waist with a corset and using a voluptuous skirt to add to the illusion. In the 1920s and later, it became more desirable for women to be slim all around, while still having an unrealistically small waist. This tall, slim look lasted until the early 2000s, even in the drag scene.[44] Padding, which had been used before in drag, nearly became a necessity in achieving the illusion of a "feminine" figure. This happened as the amount of competition for drag performers drastically increased because of the sudden excitement around drag in the mainstream. Performers needed to find new ways to capture audiences' attention and stand out from their peers on stage. Fake breasts, corsets, and hip padding were used more and more in the drag community to enhance the character or identity that drag performers work hard to achieve.[44]
It is common now to be praised for a curvy body, usually meaning a small waist with large hips.[44] Body shape, however, is starting to become less of one specific ideal, and body positivity is growing in today's society. This idea reflects drag culture as well, because of the large variety of races, body types, heights, cultures, and more represented by drag performers. Drag queens and kings have created such a diverse and accepting community, and we can only hope that the rest of the world can figure out how to do the same.[44]
Pageantry
Drag pageantry is a developed form of pageantry for female impersonators, drag queens and trans women, styled after traditional beauty pageants or contests for cisgender women. It has also evolved into a pageantry for male impersonators, drag kings and trans men. National drag pageants became enmeshed within the gay community during the 1960s with a national circuit of pageants organized by Flawless Sabrina and have become increasingly prevalent since. Drag pageants were held in individual gay bars, and discothèques during the post Stonewall era. Drag pageants evolved independently, in the decade subsequent to the first gay Mardi Gras coronations.[45]
Some prestigious pageants include Miss Gay America, Miss Continental, National Entertainer of the Year, Miss GayUSofA, All American Goddess and Universal ShowQueen.
Etymology
The use of "drag" in this sense appeared in print as early as 1870 but its origin is uncertain. Much like drag itself, the term 'drag' is said by many to have theatrical roots. Some say the term originated from the way the dresses male actors wore dragged along the floor. Others say the word 'drag' was theatre code for 'Dressed as A Girl', though this is proven to be more of a folk etymology than a fact.[1][2][3]
Media
Literature
Expansion needed
This section is incomplete. You can help LGBTQIA+ Wiki by expanding it.
Film
Television
Music
Resources
References
↑ 1.0 1.1 "The fabulous history of drag". https://www.bbc.co.uk/bitesize. BBC. (Archived on January 16, 2022).
↑ 2.0 2.1 2.2 2.3 2.4 2.5 2.6 2.7 2.8 2.9 Knapp, Francky: "Meet the Winners of Drag Race 100 Years Ago" (May 28, 2019). https://www.messynessychic.com/author/maryfrances/. Cabinet of Chic Curiosities. (Archived on January 16, 2022).
↑ 3.0 3.1 3.2 3.3 "The History of Drag and Its Impact on Mainstream Media & Society". yoair.com. Yoair. (Archived on January 16, 2022).
↑ 4.0 4.1 Gewertz, Ken: "When men were men (and women, too)" (July 17, 2003). news.harvard.edu. The Harvard Gazette.
↑ Garcia, Lucas: "Gender on Shakespeare's Stage: A Brief History" (November 21, 2018). writerstheatre.org. Writer's Theatre.
↑ Lee, Selina: "Shakespeare in Drag The Gender-Bending Bard" (April 23, 2016). truecolorsunited.org. True Colors United.
↑ 7.0 7.1 Joseph, Channing Gerard: "The First Drag Queen Was a Former Slave" (May 28, 2019). https://www.thenation.com/authors/channing-gerard-joseph/. The Nation. (Archived on January 16, 2022).
↑ 8.0 8.1 8.2 8.3 8.4 8.5 Boyd, Nan Alamilla: "Wide-Open Town: A History of Queer San Francisco to 1965" (2003). muse.jhu.edu. University of California Press. (Archived on January 16, 2022).
↑ 9.0 9.1 9.2 Bean, Annemarie. Female Impersonation in Nineteenth-Century American Blackface Minstrelsy. New York University, 2010.
↑ 10.0 10.1 10.2 Moore, F. Michael.. Drag!: Male and Female Impersonators on Stage, Screen, and Television: An Illustrated World History. McFarland & Company, 1994.
↑ 11.0 11.1 11.2 11.3 Baker, Roger. Drag: A History of Female Impersonation in the Performing Arts. NYU Press, 1994.
↑ Ehrhardt, Michelle: "Jose Julio Sarria the Subject of New Documentary" (July 24, 2014). https://www.out.com/authors/michelle-ehrhardt. Out. (Archived on January 16, 2022).
↑ The Times from San Mateo, California · Page 23. The Times, February 3, 1961. (web archive)
↑ Shaw, Alison; Ardener, Shirley. Changing Sex and Bending Gender. Berghahn Books, October 1, 2015. ISBN 978-0-85745-885-8. (web archive)
↑ Moore, F. Michael.. OBITUARIES: Arthur Blake. Variety, April 3, 1985.
↑ 16.0 16.1 "Our History". royalhouseoflabeija.com. House of Labeija. (Archived on January 16, 2022).
↑ 17.0 17.1 17.2 Coopey, Ellis: "Vogue Ball: Houses, Hunties, Mothers and Fathers". contactmcr.com. Contact. (Archived on January 16, 2022).
↑ "Underground Ball Culture". haenfler.sites.grinnell.edu. Haenfler. (Archived on January 16, 2022).
↑ The Editors of Encyclopaedia Britannica: "Stonewall riots, United States history" (June 17, 2009 (last updated June 21, 2021)). britannica.com. https://www.britannica.com/.
↑ Carter, David. Stonewall: The Riots that Sparked the Gay Revolution. St. Martin's, 2004. ISBN 0312200250.
↑ Marcus, Eric: "Making Gay History: Episode 11 – Johnson & Wicker" (1987). https://makinggayhistory.com. Making Gay History. (Archived on January 16, 2022).
↑ 22.0 22.1 22.2 "History Of Drag Culture In Eastern Europa". https://www.queensofeasterneurope.com/. Queens of Eastern Europe. (Archived on January 16, 2022).
↑ Shield, D.J. Andrew. Stonewall: The Riots that Sparked the Gay Revolution. January 18, 2020. (web archive)
↑ 24.0 24.1 24.2 24.3 Goodman, Elyssa: "Drag Herstory: The Wild Life and Untimely Death of Divine, Drag Queen of the Century" (May 25, 2018). https://www.them.us/contributor/elyssa-goodman. Them. (Archived on January 16, 2022).
↑ Wass, Mike: "RuPaul's 'Supermodel Of The World' Turns 20: Backtracking" (June 10, 2013). idolator.com. Idolator. (Archived on January 16, 2022).
↑ Ott, Veronica: "RuPaul's Drag Race: The Story Behind RuPaul's VH1 Talk Show From 1996" (March 23, 2021). screenrant.com. ScreenRant. (Archived on January 16, 2022).
↑ Aguirre, Abby: "How the World Fell Head Over Heels for RuPaul" (April 15, 2019). https://www.vogue.com/contributor/abby-aguirre. Vogue Magazine. (Archived on January 16, 2022).
↑ Brew, Simon: "Why Mrs. Doubtfire Mattered" (November 24, 2019). https://www.denofgeek.com/author/simon-brew/. Den of Geek. (Archived on January 16, 2022).
↑ Sokol, Tony: "The Rocky Horror Picture Show And Its Lasting Legacy" (August 14, 2019). https://www.denofgeek.com/author/tony-sokol/. Den of Geek. (Archived on January 16, 2022).
↑ Blay, Zeba: "How 'To Wong Foo' Paved The Way For The 'Drag Race' Phenomenon" (March 22, 2018). https://www.huffpost.com/author/zeba-blay. Huffpost. (Archived on January 16, 2022).
↑ Diaz, Eric: "The continuing impact and legacy of RuPaul's Drag Race" (June 30, 2021). https://nerdist.com/author/eric-diaz/. Nedrist. (Archived on January 16, 2022).
↑ Damshenas, Sam: "RuPaul's Drag Race is the most important queer TV show in HERstory, and here is why" (June 30, 2021). https://www.gaytimes.co.uk/author/sam-damshenas/. Gay Times UK. (Archived on January 16, 2022).
↑ Kheraj, Alim: "How to Do Pride Right, with Bob the Drag Queen" (June 18, 2018). https://www.gq.com/contributor/alim-kheraj. GQ. (Archived on January 16, 2022).
↑ "Pride Amsterdam". iamsterdam.com. I Amsterdam. (Archived on January 16, 2022).
↑ Masterclass Staff: "What Is Drag? A Primer on Drag Queens in Popular Culture" (2020). https://www.huffpost.com/author/deb-kavis. Masterclass. (Archived on January 16, 2022).
↑ Teo, Yu Sheng: "What is a drag king?" (September 16, 2021). heckinunicorn.com. Heckin Unicorn. (Archived on January 16, 2022).
↑ Masterclass Staff: "What Is Drag? A Primer on Drag Queens in Popular Culture" (2020). https://www.huffpost.com/author/deb-kavis. Masterclass. (Archived on January 16, 2022).
↑ Kavis, Deb: "The Many Styles Of Drag Kings, Photographed In And Out Of Drag" (November 12, 2019). https://www.huffpost.com/author/deb-kavis. Huffpost. (Archived on January 16, 2022).
↑ Weber, Dani: "Drag and gender: Performing as a non-binary human" (July 13, 2017). archermagazine.com.au. Archer. (Archived on January 16, 2022).
↑ "Bio". derrickbarry.com. derrickbarry.com. (Archived on January 16, 2022).
↑ Katsilometes, John: "Vegas Tina Turner artist returns to character". https://www.reviewjournal.com/staff/john-katsilometes/. Las Vegas Review-Journal. (Archived on January 16, 2022).
↑ 44.0 44.1 44.2 44.3 44.4 44.5 44.6 Noniewicz, Abby: "The History of Drag and Its Influence on Fashion & Beauty" (November 3, 2020). theavenuemag.com. Avenue Magazine. (Archived on January 17, 2022).
↑ Barr, Sabrina: "RuPaul's Drag Race: How Drag Pageantry Evolved Throughout the 20th Century" (February 17, 2019). https://www.independent.co.uk/author/sabrina-barr. Independent. (Archived on January 17, 2022).