Butch is an identity within the LGBTQIA+ community of some people whose outward gender expression matches their culture's understanding of masculinity.[1][2] Most often, butches take on masculine roles and careers that are typically designated to men within their culture and time period.[2] Butch originally referred to a style and gender role performed by masculine lesbians,[3][4][5] and is still often associated with the lesbian community, but its usage and meaning have expanded and are not exclusive to lesbians.[1][6] In current usage, butch sometimes refers to a particular non-binary gender identity.[3]
Butch has similarities with boi, transmasculine, and other masculine of center identities. It is often understood on a spectrum of butch to femme.[6] One variation is "soft butch," a masculine expression that is closer to neutrality than extreme masculinity.[1]
Etymology
The word butch may have been coined by abbreviating the word butcher, as first noted in George Cassidy's nickname, Butch Cassidy.[7] The specific term was first coined in the 1940s by lesbian and queer women, but the concept developed earlier.[4]
Community
History
In the United States, butch/femme roles were common in lesbian communities during the first half of the 20th century.[8]
Flag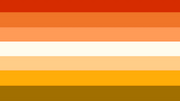 On June 27, 2017, Mod Q of the Tumblr blog butch positivity (butchspace) and Tumblr user princechaotic posted a seven-striped orange and yellow butch flag design.[9] The color meanings are as follows (posted June 30, 2017):[10]
Red: Passion and sexuality; inspired by the meaning of red in Gilbert Baker's pride flag and the complicated yet passionate ways butches relate to their sexualities
Red Orange: Courage; being butch is often stigmatized—it symbolizes the strength butches share in learning to find and love themselves
Light Orange: Joy; the color is light and soft and symbolizes the joy of being butch that comes despite the hardships
White: Renewal; discovering oneself as butch is a sort of rebirth and marks the beginning of a new existence
Beige: Chivalry; butches have a kind and chivalrous nature—they seek to protect others
Orange: Warmth; how warm butches and butchness can be; finding comfort in being butch
Brown: Honesty; butches admitting to themselves it is who they are[10]
Distinction
Optional section: If the topic has similarities to another gender/orientation, use this section to highlight the differences between them.
Perceptions and discrimination
Although working class butch/femme culture of the 1940s and 1950s was not a simple imitation of heterosexuality, that assumption led to stereotyping and dismissal by many lesbian feminists, the medical establishment, and more affluent lesbians and gay men. The dominant discourse of feminism and lesbian feminism in the 1970s and early 1980s regarded butch/femme communities as incompatible with feminism and marginalized them in lesbian history. From that perspective, butch/femme roles were criticized as reproducing patriarchy and hierarchies within women's relationships; they were not seen as being distinct, transformative, or a form of resistance to the oppression of women.[8]
In the 20th anniversary edition of Boots of Leather, Slippers of Gold: The History of a Lesbian Community co-author Elizabeth Lapovsky Kennedy noted that there is more work to be done regarding the history of transgender men. Masculine-presenting people who were assumed to be butch women may have been trans men or otherwise had a different understanding of their gender. The assumptions of gender led to mistakes in documentation, oversimplifying a history that is more complicated.[8]
Media
Literature
Stone Butch Blues by

Leslie Feinberg

Tomboy Survival Guide by Ivan E. Coyote
Girl Mans Up by M-E Girard
Female Masculinity by J. Jack Halberstam
Dagger: On Butch Women by Lily Burana
Life Rewired by Lynn Galli
Rules of the Road by K. Aten
Homecoming by Nell Stark
Something True by Karelia Stetz-Waters
Film
The Watermelon Woman (1996)
Rafiki (2018)
Go Fish (1994)
Fun Home (2006)
Better Than Chocolate (1999)
Resources
Stone Butch Blues by Leslie Feinberg, 20th Anniversary Author's Edition, available as a free PDF through hir estate
References
↑ 1.0 1.1 1.2 The Trans Language Primer: "Butch". The Trans Language Primer. (Archived on November 4, 2021).
↑ 2.0 2.1 Yassine Senghor: "It's #ButchAppreciationDay, and this is what butch means to me" (2020-08-19). Stonewall UK. (Archived on January 25, 2022).
↑ 3.0 3.1 McNabb, Charlie. Nonbinary Gender Identities: History, Culture, Resources. Rowman & Littlefield, 2018. ISBN 9781442275522.
↑ 4.0 4.1 Holleb, Morgan Lev Edward. The A-Z of Gender and Sexuality: From Ace to Ze. Jessica Kingsley Publishers, 2019. ISBN 9781784506636.
↑ Davis, Chloe O.. The Queens' English: The LGBTQIA+ Dictionary of Lingo and Colloquial Phrases. Clarkson Potter/Publishers, 2021. ISBN 9780593135013.
↑ Walker, Ja'nina. "Butch Bottom–Femme Top? An Exploration of Lesbian Stereotypes". Journal of Lesbian Studies. vol. 6, no. 1, 2012-01-12.
↑ 8.0 8.1 8.2 Kennedy, Elizabeth Lapovsky and Davis, Madeline D.. Boots of Leather, Slippers of Gold: The History of a Lesbian Community. 20th anniversary edition, Routledge (Taylor & Francis Group), 2014.
↑ Mod Q of butchspace: "A new butch flag" (2017-06-27). butchpositivity. (Archived version).
↑ 10.0 10.1 Mod Q of butchspace and princechaotic: "Color meanings" (2017-06-30). butchpositivity. (Archived version).