We are the recorders and reporters of facts–not the judges of the behaviors we describe.

Alfred Kinsey
Alfred Charles Kinsey (June 23, 1894 – August 25, 1956), was a bisexual[1] American biologist who conducted landmark research into male and female sexual behavior.[2] He remains one of the most influential figures in American intellectual history.[3][4]
Biography
Early life
Kinsey was born in Hoboken, New Jersey in 1894 to Alfred Seguine Kinsey and Sarah Ann Charles.[4] He initially studied engineering at the insistence of his father, a religious man and teacher at Stevens Institute of Technology.[4] However, he left after two years to study biology at Bowdoin College in an act that severed ties with his family, none of whom attended his graduation - which he achieved cum laude - in 1916.[1][4][5] In 1919, he received his doctorate in biology from Harvard and arrived at Indiana University in 1920, where he would spend 20 years researching gall wasps.[2][3][4]
Sex research
In 1938, Indiana University began offering a "Marriage and Family" course, at the behest of students part of the Associate of Women.[2] Kinsey agreed to lead this team=taught subject, and it proved very popular; by 1940, his course enrolments had grown to 400.[4] It was during this time that Kinsey realized the need for more research into sex and sexuality, as often data was values-based or had limited research in small trials.[2][6] Kinsey capitalized on his own annotating system, developed from spending two decades studying gall wasps, to begin compiling what later became the most extensive record of human sexual behavior ever compiled,[1] amassing approximately 18,000 interviews with a wide assortment of American men.[7]
Later life and death
Kinsey died on August 25, 1956, due to a heart condition combined with pneumonia.[8] He had been ill for several months prior,[8] and it has been suggested that particularly vicious attacks against his research added to his stress and contributed to his death.[4][5]
Legacy
Kinsey's most influential work was compiled in his 1948 book entitled Sexual Behavior in the Human Male, which also contained the first version of his self-titled Kinsey scale, and its 1953 follow-up Sexual Behavior in the Human Female.[2] Together, the two are known as the Kinsey Reports.
Sexual Behavior in the Human Male
In January 1948, Kinsey - as well as his collaborators Wardell Pomeroy and Clyde Martin - published Sexual Behavior in the Human Male. It made the best-seller list before the end of February, and by mid-March had sold 200,000 copies.[4] This book contained over 5,000 sexual histories, as well as statistics, tables, and graphs containing information on the prevalence of sexual behaviors, such as masturbation, adultery, and homosexuality.[4] As a result, the book was met with a "storm of condemnation and acclaim"[9] as he was simultaneously praised for having the courage to publish the book despite significant backlash,[10] while at the same time creating "the most anti-religious book of our times".[4]
Kinsey Scale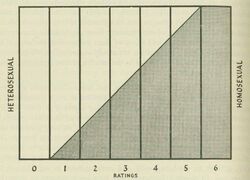 The Kinsey Scale, also known as the Heterosexual–Homosexual Rating Scale, was first introduced in Sexual Behavior in the Human Male, but was also prominent in the complementary work Sexual Behavior in the Human Female.[11] It was created as research findings began to demonstrate that sexuality was not binary and people did not fit into exclusive hetero= or homosexual categories.[11] The scale was originally used to rate individuals based on behavior, as opposed to self-identifying labels;[12] Kinsey also acknowledged that sexuality was a continuum (as opposed to being binary)[13] and that the seven categories - ranging from 0 (exclusively heterosexual) to 6 (exclusively homosexual) and the addition of an X to indicate no sociosexual contacts or relations - could not capture the sexuality of every individual.[14]
Controversy
Kinsey has been criticized for his voyeuristic attitude toward sex, often encouraging those who worked with him to engage in sexual activities among themselves and with him. Accordingly, one of the co-authors of Sexual Behaviors in the Human Male said that "he just fucks everybody".[7] He was also known to have filmed sexual acts that included his co-workers in his attic at home.
In addition, speculation has been cast on aspects of Kinsey's data collection, including his choice to interview people who did not represent wider society, as well as relying on volunteers instead of a controlled sample[15] and irregularities in some of his data.[3]
After his death, it came to light that all research that explored pedophilia was based on an interview with one person; not, as had been proclaimed by Kinsey, multiple people.[16] Such revelations cast some of his research into doubt, as well as the knowledge that he had solicited information but did not report it.[17]
References
↑ 1.0 1.1 1.2 Rhodes, Richard: "Father of the Sexual Revolution" (1009-11-02). archive.nytimes.com. The New York Times.
↑ 2.0 2.1 2.2 2.3 2.4 "Dr. Alfred C. Kinsey" (2020). kinseyinstitute.org.
↑ 3.0 3.1 3.2 "Alfred Charles Kinsey" (2012). britannica.com. Britannica.
↑ 4.0 4.1 4.2 4.3 4.4 4.5 4.6 4.7 4.8 4.9 Brown, Theodore & Fee, Elizabeth: "Alred C. Kinsey: A Pioneer Of Sex Research" (2013). ncbi.nlm.nih.gov. American Journal of Public Health.
↑ 5.0 5.1 "Alfred Charles Kinsey (1894-1956)" (2019-12-18). pbs.org. PBS.
↑ "Alfred Kinsey = Famouse Bi People" (2022). bi.org. Bi.Org.
↑ 7.0 7.1 Porter, Roy: "Alfred's brush with pleasure" (1997-11-04). timeshighereducation.com. Times Higher Education.
↑ 8.0 8.1 The Associated Press: "Alfred Kinsey - obituary" (1956-08-26). writing.upenn.edu. The New York Times.
↑ "Project MUSE - Sexual Behavior in the Human Male" (2016-01-01). muse.jhu.edu. Project MUSE.
↑ Rusk, Howard: "Concerning Man's Basic Drive" (1948-01-04). archive.nytimes.com. The New York Times.
↑ 11.0 11.1 "The Kinsey Scale" (2020). kinseyinstitute.org. The Kinsey Institue.
↑ Galupo, M. P., Mitchell, Renae C., Grynkiewicz, Ashley. L., & Davis, Kyle. S.. Sexual Minority Reflections on the Kinsey Scale and the Klein Sexual Orientation Grid: Conceptualization and Measurement. Journal of Bisexuality, 2014. (web archive)
↑ Kinsey, Alfred, Pomeroy, Wardell, & Martin, Clyde. Sexual Behavior in the Human Male. Indiana University Press, 1948. English. ISBN 9780253019233. (web archive)
↑ Kinsey, Alfred, Pomeroy, Wardell, Martin, Clyde, & Gebhard, Paul. Sexual Behavior in the Human Female. Indiana University Press, 1953. English. ISBN 9780253019240. (web archive)
↑ Dininny, Shannon: "50 Years After The Kinsey Report" (2003-01-27). cbsnews.com. CBS.
↑ Cain, Caleb: "Alfred Kinsey: Liberator or Pervert?" (2004-10-03). nytimes.com. The New York Times.
↑ Spector, Dina: "Why Kinsey's Research Remains Even More Controversial Than The 'Masters Of Sex'" (2013-10-19). businessinsider.com.au. Business Insider Australia.