Aleshia Brevard (December 9, 1937 - July 1, 2017)[1] was an American actress, author, and model. She underwent one of the earliest gender confirmation surgery procedures performed in the United States.[2]
Early life
Brevard was born on December 9, 1937,[3] to southern fundamentalist parents at Trousdale County, in the Appalachian Mountains of East Tennessee.[4] She was brought up in abject poverty on a rural farm.[1][2] Nicknamed "Buddy", she proved to be an artistic child and spent her days dreaming of movie stars, later stating, "I'd drape a towel over my head peek-a-boo style and pretend to be Veronica Lake". She also revealed that she would "hide [her] desires in the shadows because [she] truly believed if anyone saw the truth of who [she] really wanted to be [she] would be given away".[4]
After leaving school at 15, she immediately headed west to California on a Greyhound bus.[5][6] Inspired by Christine Jorgensen, who made transgender history by pioneering gender reassignment, Brevard began the transition process in the late 1950s.[4][5]
Career
Female impersonation and transition
In her early twenties, Brevard starting performing in drag at several San Francisco clubs. Under the stage name "Lee Shaw," Brevard started doing Marilyn Monroe impressions,[2][4] eventually achieving enough renown that Marilyn herself came to a performance.[4] It was during this time that Brevard sought out specialist Harry Benjamin to help her out with her transition. At Benjamin's recommendation, Brevard underwent the surgical reassignment procedure in Los Angeles's Westlake Clinic under the care of surgeon Elmer Belt.[6]
After surgery, she flew back to rural Hartsville, Tennessee to recover at her family home. When Dr. Benjamin telephoned her parents to inform them that their child has transitioned, they were shocked and struggled to understand.[4] After talking with their minister, they decided that their love for their child outweighed any discomfort they felt. Brevard's mother came out to Los Angeles to be there for the surgery, never once referring to her as anything but her daughter.[4] Her grandfather, who nicknamed Brevard "Rosy" as a child and even let her wear dresses and bows, embraced his granddaughter with open arms.[4] He started referring to Brevard as "Rosy" again after her surgery.[4]
Acting and modeling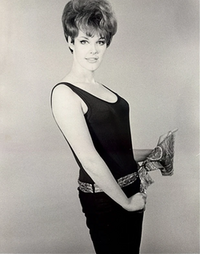 After a year's recovery post-surgery, she enrolled as a student at Middle Tennessee State University for her undergraduate education.[7] During this period, she became more comfortable with her womanhood, became married, and took classes.[6] This was at a time when she was a working actress, touring the U.S. as a theater performer, and working in film and television. She gained membership to Hollywood unions,[7] and ultimately received her master's degree in Theater from Middle Tennessee State.[8] She also dabbled in modeling and eventually became a Playboy Bunny.[2]
Personal life
Brevard was married three times, had a series of abusive boyfriends, and fended off advances from her co-stars, including Andy Griffith and Anthony Newley. In most cases, none of the men ever knew of Brevard's transgender identity.[1][9] Brevard embraced feminism in the 1970s and found an ally in her mother in her ongoing quest to accept herself and her history. In an interview for Temple University Press, Brevard said about her relationships with men, "I was not being honest, even with myself. I was trying to be the woman my mate wanted me to be. By trying to live up to someone else's fantasy, I lost myself. I know a lot of married women who are still making that sad mistake".[9]
Gender identity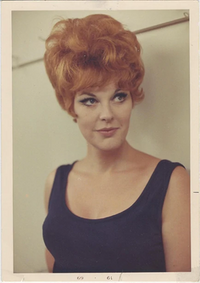 Brevard's was one of the earliest medical transitions, which occurred before the term transgender had been coined and before there was a transgender community in San Francisco.[1][7]
Brevard did not identify as trans early in her life and often deflected questions.[10] However she decided to change because she realized she was denying her own personal history.[10] Once her memoir was published in 2001, she started to become labeled a "transsexual writer" and "transsexual actress". As she stated in her second book, "I'd been labeled—forced into a transsexual mold".[7]
"Professionally, both as a film/stage actress and, later, as a university professor of theatre, my life was lived outside the gender community. Only after publishing two memoirs, when in my 60s and 70s, did I first hear the term 'transgender' and become aware of the community's stated agenda," she said in an interview in 2013.[6] She also said in April 2017, "I did not go through gender reassignment to be labeled transsexual. I look at that as an awkward phase that I went through—sort of like a really painful adolescence. I don't even think of myself now in terms as transsexual. That's something I experienced and (something) I was".[3]
Brevard also said regarding her identity: "For me, as well as for my early sisters, the goal was never to live with a 't' before our names. Our objective was to blend so thoroughly that the things mixed could not be recognized. It was a choice, made not because we felt any shame about our transsexual history, but because our goal had always been to live fully as the women we'd been born to be."[6]
Later life
She returned to California in the late 1990s, settling outside of Santa Cruz, California with an old friend, finding work as a substitute teacher, and doing community theater.[2]
Aleshia Brevard died at home in Scotts Valley, California on July 1, 2017, at the age of 79.[1]
Filmography
Television
| Year | Title | Role | Notes |
| --- | --- | --- | --- |
| 1969 | The Red Skelton Show | | Brevard's Television debut |
| 1970 | One Life to Live | Tex | [5] |
| 1970 | The Partridge Family | Cocktail Waitress | [5] |
| 1970 | The Dean Martin Show | | [5] |
| 1972 | Night Gallery | Robot receptionist | "You Can't Get Help Like That Anymore" segment |
| 1972 | Legends of the Superheroes | Giganta | |
Film
| Year | Title | Role | Notes |
| --- | --- | --- | --- |
| 1969 | The Love God? | Sherry | [5] |
| 1970 | The Female Bunch | Sadie | [5] |
| 1970 | Bigfoot | | [5] |
| 1980 | The Man With Bogart's Face | Mother of the landlady | [5] |
| 1980 | Smokey and the Judge | Wally Lewis | [5] |
| 1981 | Hard Country | Snoopy Lady | |
| 1981 | American Pop | Showgirl #2 | |
| 2005 | Screaming Queens: The Riot at Compton's Cafeteria | Self | Documentary on drag |
Theater
| Title | Role | Location | Notes |
| --- | --- | --- | --- |
| Move Over Ms. Markham | Joanna Markham | | [11] |
| Gingerbread Lady | Evy Meara | | [11] |
| Seven Year Itch | The Girl Upstairs | | [11] |
| The Shadow Box | Beverly | | [11] |
| Steel Magnolias | Truvy Jones | New York; off-broadway | [11] |
| Night of the Iguana | Maxine Faulk | | [11] |
| Ruthless! The Musical | Emily Green | Chicago | [11] |
| The Midsummer Night's Dream | Hyppolyta | Globe Theatre | [11] |
| Subject to Change | Madeline Bassett | | |
Bibliography
External links
References
Please take note:
Many of these references contain instances of deadnaming and misgendering. Reader discretion is strongly advised.
↑ 1.0 1.1 1.2 1.3 1.4 Whiting, Sam: "Aleshia Brevard, SF drag star and transgender pioneer, dies at 79" (July 24, 2017). https://www.sfchronicle.com/author/sam-whiting/. SFGate. (Archived on January 22, 2022).
↑ 2.0 2.1 2.2 2.3 2.4 Brevard, Aleshia. The Woman I Was Not Born To Be: A Transsexual Journey. Temple University Press, February 15, 2001. ISBN 9781566398404. (web archive)
↑ 3.0 3.1 Waldorn, Terri-Lynne: "Actress reflects on transitioning, Marilyn Monroe connection" (May 4, 2017). windycitytimes.com. Windy City Times. (Archived on January 22, 2022).
↑ 4.0 4.1 4.2 4.3 4.4 4.5 4.6 4.7 4.8 Shepard, Nikita: "A Tennssee Trans Icons Comes Home: Remembering Aleshia Brevard" (November 20, 2017). https://www.spectrumsouth.com/author/nikita-shepard/. Spectrum South. (Archived on January 22, 2022).
↑ 5.0 5.1 5.2 5.3 5.4 5.5 5.6 5.7 5.8 5.9 "Aleshia Brevard, transgender model, actress and writer" (July 24, 2017). smh.com.au. The Sydney Morning Herald. (Archived on January 22, 2022).
↑ 6.0 6.1 6.2 6.3 6.4 Kowalska, Monika: "Interview with Aleshia Brevard: Part 1" (January 23, 2013). theheroines.blogspot.com. Blogspot.com. (Archived on January 22, 2022).
↑ 7.0 7.1 7.2 7.3 Brevard, Aleshia. Bilbo's Bend. Temple University Press, October 7, 2015. ISBN 9780996134446. (web archive)
↑ Artavia, David: "Trans Trailblazer Aleshia Brevard Dead at 79" (July 25, 2017). advocate.com. Advocate. (Archived on January 22, 2022).
↑ 9.0 9.1 "BREVARD, Aleshia 1937-". encyclopedia.com. Encyclopedia.com. (Archived on January 22, 2022).
↑ 10.0 10.1 Chen, Nancy N.. Bodies in the Making: Transgressions and Transformations. North Atlantic Books, 2006. ISBN 9780971254633. (web archive)